The Real Housewives of New York is returning, but not in the way viewers are used to seeing it. Bravo honcho Andy Cohen revealed plans to revamp the show entirely, starting from the ground up. Many believe that the cause is attributed to Eboni K. Williams shaking things up during her debut season when she became the series' first full-time Black housewife. 
Williams reportedly made her co-stars so uncomfortable due to her storyline being centered on race and microaggressions that they complained to the network and axed her completely from their group. While Williams says she still has the chance to appear in the new show, she admits that she's not in contact with the majority of the cast.
The former lawyer says the only co-star who didn't cease communication with her was Sonja Morgan
Since the end of Season 13, rumors have surfaced that tensions between Williams and her co-stars rose due to the OG's beliefs that Williams pushed too hard on her stance with racial issues. They allegedly felt Williams made race a central focus on the show. There was even an internal investigation that Williams was part of that explored whether or not Ramona Singer made racially insensitive/discriminatory remarks to staff and co-stars. The results of that investigation didn't find Singer guilty.
However, Williams says the rest of her co-stars stopped communicating with her. She claims that she tried to arrange meetings with her co-stars and the network about how to move forward, but was unsuccessful. 
"If you want to call it blackballed, then yes, I'm not going to dispute the semantics of that, what I am telling you painly is only Sonja Morgan was willing to come to the table and negotiate a future that involved me as a part of this ensemble," she told Carlos King during an episode of the Reality with The King podcast.
She previously spoke on her fallout with Leah McSweeney
Williams came into the show as a friend of McSweeney's. She said that she and McSweeney bonded over shared life experiences, and credited McSweeney with being an ally to the Black community. But things between them have soured since filming wrapped.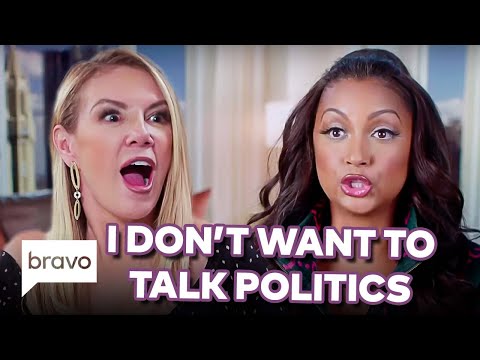 In recent months, there were rumors that McSweeney and a few other RHONY stars left a Dave Quinn party upon Willaims' arrival. But Williams says she can't confirm whether it's true that they left the party because of her. Instead, Williams says her fallout with McSweeney is due to differing opinions regarding certain things on the show. 
"I don't talk to Leah and I haven't spoken to Leah since right before the Dave Quinn incident," Wiliams told Shadow and Act in a recent interview. "I had one conversation with Leah after that. She called me with an issue – and I wish her the very best, you know. I just think people have been really nasty toward her and it's hard for me to see the social media pile-on for anybody. All of that aside, I can just tell you that we found ourselves as a place, as grown women where there were some deeply personal values of mine that are not in full alignment with her values and on these particular issues as it relates to the show."
Despite the drama, Eboni K. Williams wants to return to 'RHONY' for another season
Now that the traditional version of RHONY is off the table, there two new shows are in the works, one of which will feature a younger social circle. Williams says she's still open to returning. Her goal is to showcase the true multiculturalism of New York and provide depth to the series that she feels is lacking.
"I don't know if I really gave a damn about being a Housewife [on the show] as much as I gave a whole lot of damns about being an important representation of Black womanhood on a global iconic platform," she told King. "That's what I wanted for Season 13. Now a b—h is old, outside is open, [and] I wanna be a Housewife, I can tell you that, truthfully as I've kind of brought into the whimsicalness of that part of it now in a way that — I want to have fun [as they typically do on these shows]."
Source: Read Full Article