The art of cooking isn't exactly a universal skill obtained by just anyone, which likely stems from the age-old adage, "If you can't stand the heat, get out of the kitchen." While many tend to view celebrities as godlike species who walk on water and turn stone into gold, some of these icons' biggest flaws lie within the walls of a stainless-steel Samsung kitchen appliance.
In a world where you're able to have a 5-star meal hand-delivered in minutes with the touch of a button (or a face identified), some of the most renowned names in the business, such as Selena Gomez, Paris Hilton, and even Snoop Dogg have worked years at trying to perfect their culinary craft. Others, like Ashley Graham, have proudly admitted that they leave the cooking to their spouses with a cheeky tradeoff of "[taking] care of [their] men in other ways" (via "Martha & Snoop's Potluck Dinner Party").
From stars who frequent the DoorDash app to award-winning actors who managed to dodge a visit from the fire department, these celebrities (and their loved ones) have all admitted they have absolutely no business in the kitchen.
Eva Mendes can't navigate her own refrigerator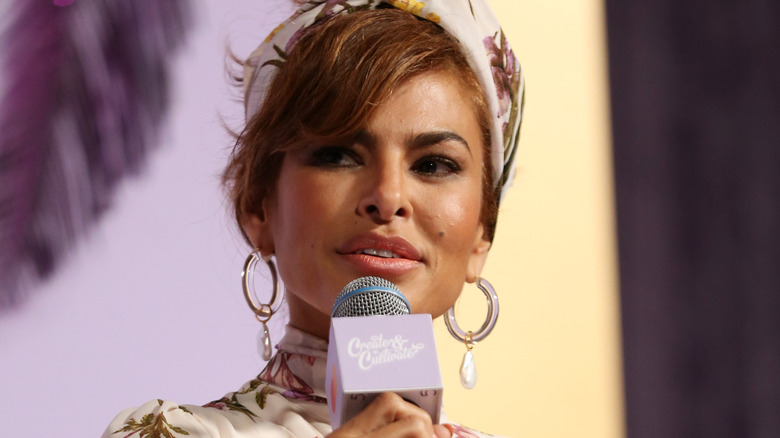 Together, Eva Mendes and her partner Ryan Gosling are one of the hottest celebrity couples of all time, but separately, Mendes can't exactly stand the heat when it comes to whipping up a home-cooked meal. On multiple accounts, the "Hitch" actress has admitted that she isn't quite as gifted in the kitchen and would much rather resort to ordering takeaway or eating out.
In 2011, around the time Mendes and Gosling first began dating, she explained to Bang! Showbiz (via Digital Spy), "I open the fridge and don't know how to get from point A to point B. I do want to start [cooking] because I feel really pathetic. We get home delivery meals three times a week and we go out the rest of the time. It's so embarrassing."
This dynamic evidently hasn't changed (one decade and two children later), as Mendes gushed over her partner's cooking skills on Instagram in February of 2020 in response to a fan who asked if the couple ever cooked at home. "Ryan is an amazing chef AND baker. For reals. Incredible. No joke," Mendes replied. "I'm not sure that what I do is cooking. It's more like steaming veggies and juicing and making rice. He really cooks. I survive." Mendes calls it 'surviving', but we'd be willing to bet she's 'thriving'!
Beyoncé prefers a life of simplicity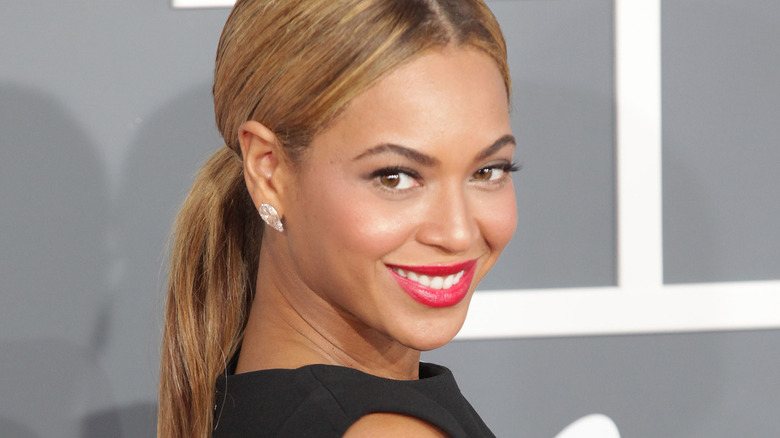 Since the start of her musical reign as a member of the famous trifecta Destiny's Child in the late '90s, Beyoncé Knowles-Carter's celebrity status and effortless talents are regularly compared to that of sheer royalty. While the "Love on Top" singer has gone on to achieve global superstardom as a successful solo artist, Beyoncé's culinary competence is far more lucrative with a helping hand.
"I don't cook much," Beyoncé explained to Cosmopolitan. "But I'm good at spaghetti and sandwiches. I know they're easy, but they're my specialty." Her mother, Tina Knowles-Lawson, further expressed just how subpar her daughter's cooking skills actually are. "Beyoncé can't cook," Knowles-Lawson said to Us Weekly. When asked how Beyonce's skills rank against those of her sister Solange Knowles, Tina exclaimed, "There's no contest!"
Like many of us, there is one set of skills Beyoncé knows how to utilize at the most opportune times: "I'm a really good taste tester," she told The New York Times. A woman after our own hearts!
Katherine Schwarzenegger almost burnt the house down
After just having welcomed their daughter Lyla in August of 2020, Katherine Schwarzenegger and her husband Chris Pratt have endured a year full of vital lessons since they got married in June 2019. In order to keep his lady (and the fans) laughing, Pratt decided to poke a little fun toward his wife while putting her cooking fail on full display via social media just four months after the two tied the knot.
Schwarzenegger's attempt at cooking Bagel Bites went completely haywire when Pratt shared the photo of the burnt snack to his Instagram page, saying, "Proud of my darling for trying to cook tonight. Did it go well? No. No it did not. Not at all." However, the "Jurassic World" star ultimately praised his wife for the attempt. After explaining that he "simply cannot imagine what went wrong," Pratt concluded, "Pretty simple. Microwave. 2 minutes. Maybe she thought it said 2 hours. But I want to commend her for her effort."
Angelina Jolie frequently vowed to make an effort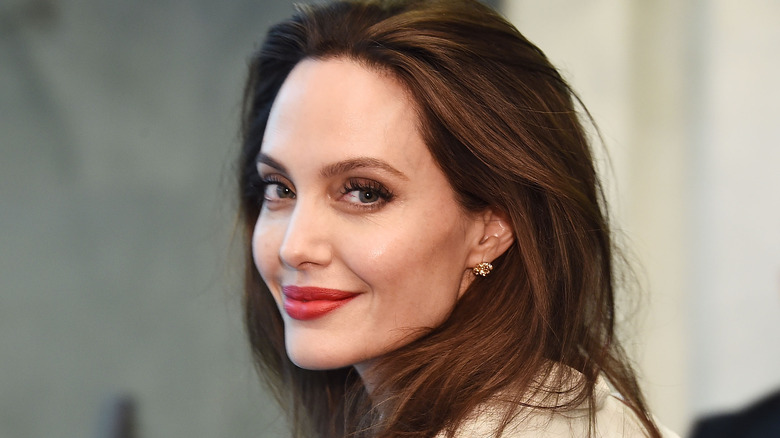 As one of Hollywood's most elite former husband-and-wife duos, Angelina Jolie and Brad Pitt first set their love on fire for the public to witness in 2005's box office smash hit "Mr. & Mrs. Smith" sharing one of the film's most sexually intensifying scenes. While this specific scene occurred in the middle of the onscreen couple's very own kitchen, Jolie's ability to swoon Pitt in her real-life kitchen fell slightly short.
In November of 2015, the "Mr. & Mrs. Smith" actors sat down for a joint interview with Tom Brokaw on "Today," where Jolie admitted a shocking recurring revelation. "Every three months I'll say, 'Honey, I think I should learn how to cook,'" she admitted. Pitt couldn't help but weigh in, saying, "I just humor it," and continued on to confirm Jolie's statement: "But really, she has no business in the kitchen." Apparently, honesty truly is the best policy!
Selena Gomez is a certified amateur chef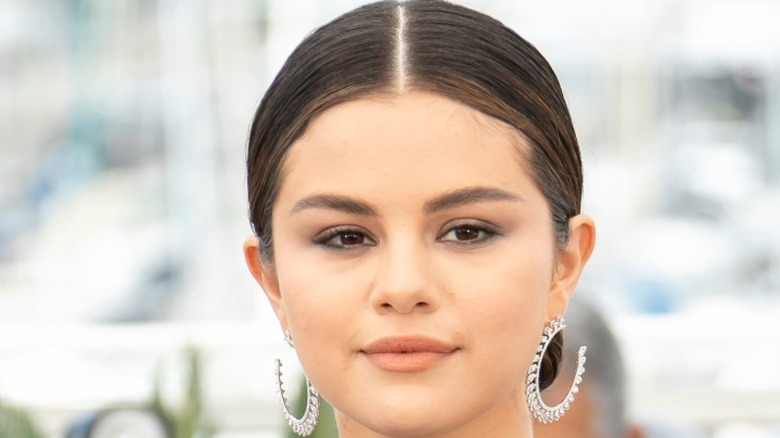 Selena Gomez went from child star to Hollywood's "it" girl all while maintaining her down-to-earth demeanor and relatable sense of self. The "Come & Get It" singer regularly connects with her fans by speaking candidly on her successes, as well as her struggles via social media. As part of Gomez's latest TV gig, her acting skills take a backseat to her culinary craft in HBO Max's cooking series "Selena + Chef" where some of her struggles are hilariously displayed.
Sarah Aubrey, HBO Max' head of original content, explained (via The Hollywood Reporter) in May of 2020, that rather than learning from a professional chef, Gomez is set to bring about comical "adventures in the kitchen, as she, like many of us, tries to improve her cooking skills during quarantine." Ironically enough, a spokesperson from HBO Max summed up Gomez's headlining gig, saying, "Despite her many talents, it remains to be seen if cooking is one of them."
Gomez almost couldn't stand the heat on a few occasions as the series headed into its second season, but she did reveal to HBO that if she were to choose another career path, "it would be fun to be a chef" despite having no formal training and casually "experimenting in the kitchen". But hey, practice makes perfect, right?
Sofia Vergara puts her son to work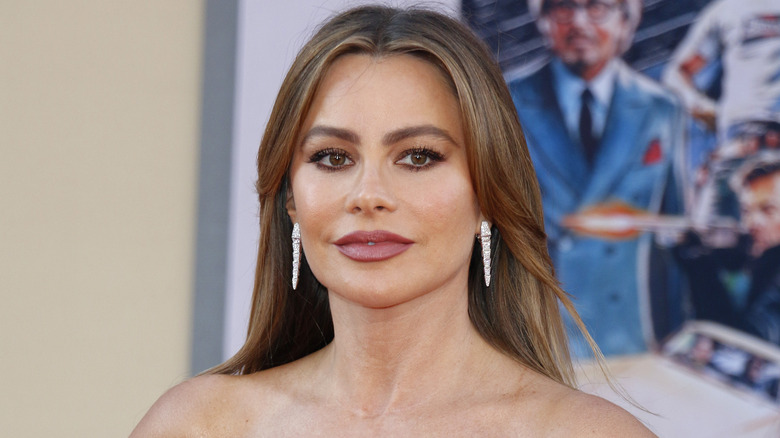 Sofia Vergara will never cease to carry a fraction of her "Modern Family" character Gloria Delgado-Pritchett close to her heart, as the actor revealed to E! back in 2014 that like her character, she and her only son Manolo Gonzalez-Ripoll Vergara always make time for what matters most. The two especially relate over one aspect in particular as Vergara explained that she and her son "bond by eating, definitely. It's like the one activity we always do!"
Vergara is undoubtedly setting up her offspring for success, admitting that between the two of them, "My son cooks!," just after confirming that she definitely doesn't prefer to spend her time in the kitchen. The irony of this statement has seemingly come full circle as Sofia explained to Ellen Degeneres on "The Ellen Show" in June of 2021 that paparazzi catch her mid-bite more often than not. "I didn't know I had a problem until people started posting pictures of me eating," Vergara laughed. Now, this is one problem we can surely get behind!
Jada Pinkett Smith's inability to cook is hereditary?!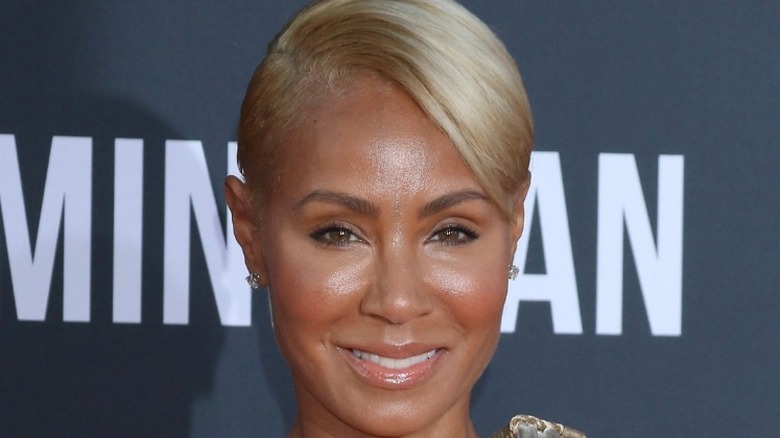 Facebook has been home to Jada Pinkett Smith's "Red Table Talk" confessional series since 2018, and has been widely recognized for its vulnerable, judgment-free style of discussion hosted by Jada Pinkett Smith, her daughter Willow and her mother Adrienne Banfield-Norris. So if there's anything the three generations have learned while voicing their opinions on the Emmy award-winning talk show, it's the art of honesty.
While chatting about cooking for her family to Shape magazine back in 2009, the "Girls Trip" star revealed the cold, hard truth about her skills in the kitchen. "I can't cook!" she said. "It's genetic. My grandmother can't cook, my mother can't cook. I was raised to believe you eat because your body needs fuel for energy, so I eat superfoods."
Lucky for Pinkett-Smith, her guilty pleasures, "French fries and pizza," as revealed to Essence in 2012, don't require culinary mastery, however, she explained to the outlet, "I don't eat for pleasure." Where's the fun in that?!
Priyanka Chopra and Nick Jonas will gladly take food donations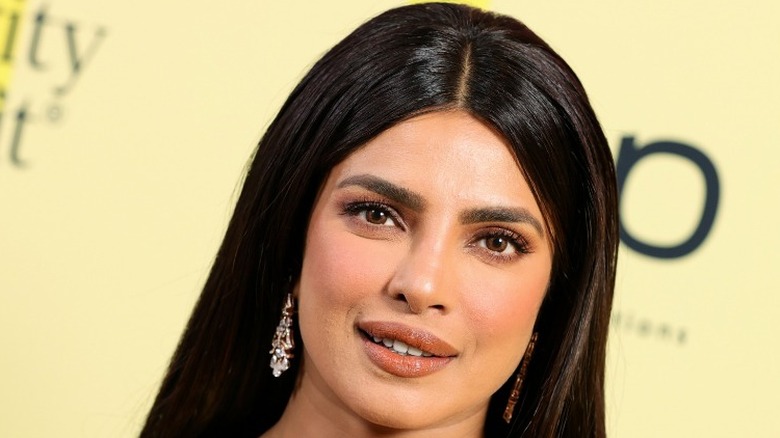 Marrying into a family as large and inviting as the Jonases undoubtedly has its perks, according to actress Priyanka Chopra, but one in particular that she and husband Nick Jonas utilize more often than not happens to be the rest of the family's ability to whip up a hearty meal. Chopra appeared on the "Drew Barrymore Show" in February of 2021 and admitted that she and the Jonas brother "[both] don't cook, but we love to eat."
While Chopra's confession doesn't appear to bode well for two people who find pure happiness in sharing delectable meals, "The White Tiger" star clarified, "A lot of our family cooks and we order in a lot." But if all else fails, Chopra jokingly resorted to suggesting that fans send the couple some edible contributions. "We love donations," she laughed. "If you love us, please send us food because otherwise, we'll starve!"
Jennifer Lawrence's skills would be 'pointless' 100 years ago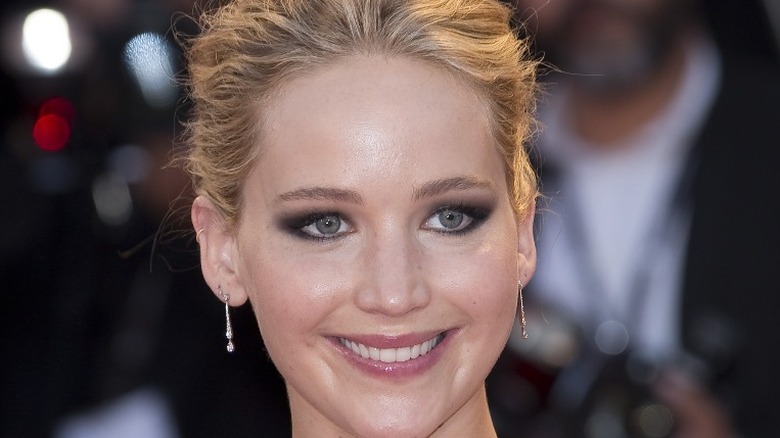 The impact Jennifer Lawrence had on young women after starring as the arrow-hurling heroine Katniss Everdeen in "The Hunger Games" franchise continues to live on even today. In our eyes, the Oscar-winning actress is the real-life Girl on Fire, but if you ask Lawrence her skillset wouldn't exactly be hand-selected first in an annual Hunger Games match.
She told W magazine, "I don't have many talents: I'm not a good cook, I can't clean, and I can't sew." With that said, something that sets the Kentucky native apart from most other actors is her ability to physically hunt down her dinner (which surely accounts for something). "The only thing I can do well is shoot bow and arrow, which I learned to do for The Hunger Games and will probably never come in handy," Lawrence said.
While she feels her lack of common skills "would have been pointless" 100 years ago, Lawrence further detailed her unusual (albeit slightly grotesque) talent to Independent, saying, "I can shoot quite well, and I didn't think I'd ever be able to say this but, yes, I can skin and cook a squirrel." The Girl on Fire is truly one-of-a-kind!
Ashley Graham won't be modeling gloves or an apron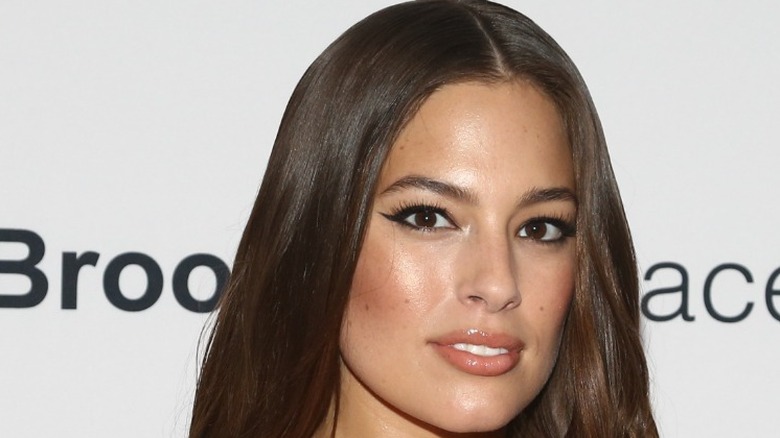 As parents, supermodel Ashley Graham and her husband Justin Ervin are ecstatically open about their parenting journeys, as well as the joy they each feel watching their family grow. "I'm proud of the amazing mother @ashleygraham is and will be – again!" Ervin gushed on Instagram. While Graham's parenting skills are unmatched, she'll be the first to admit that her homemaking skills don't quite level up just yet.
"I'm almost the perfect woman. I just don't cook or clean," Graham explained in 2016 during an episode of VH1's "Martha and Snoop's Potluck Dinner Party". Martha Stewart appeared shocked as she asked who cooks for Ervin, when the model admitted, "My husband cooks for my husband." As true New Yorkers, according to Graham, the two "always eat out", however, she later admitted in 2020 that quarantine has allowed for more practice in the kitchen. "I don't know if I've gotten any better [at it] in quarantine, but Justin has been brave enough to test what I've been whipping up," Graham dished to Us Weekly. That said, according to Graham, her gluten-free scones are *chef's kiss*.
Paris Hilton has her own cooking show although she can't cook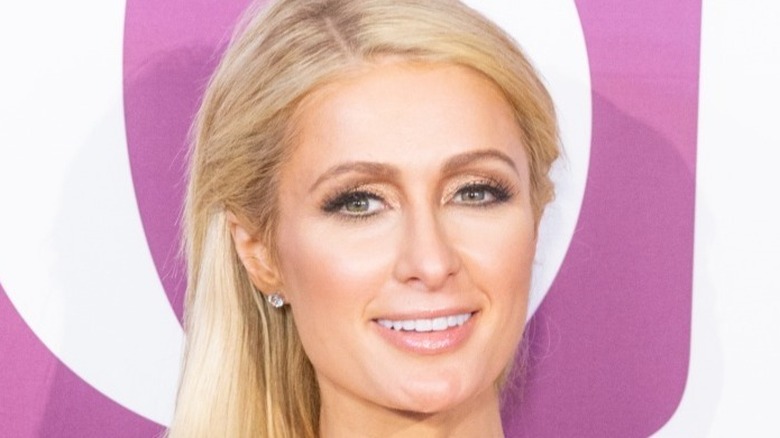 Unbeknownst to most, glamorous hotel heiress Paris Hilton has been preparing for her Netflix cooking show "Cooking With Paris" since her starring role on MTV's hit reality series "The Simple Life" (well… sort of). As of this writing, the show is spread across a six-episode series as Hilton shares hosting tips, fashions her fabulous wardrobe, and attempts to create delicious home-cooked meals. Although Hilton admitted she used to help her mom cook, she may not have brushed up on her utensil usage in recent years.
In one episode, which has garnered over 5,000,000 views, the "Stars Are Blind" singer shows viewers how to make lasagna, but she has some trouble navigating her way around the kitchen. "All these spoons are brutal. Sorry, I'm doing a cooking tutorial and I have, like, none of the correct things," Hilton said to viewers. "I don't know what this is," she then admitted at one point. "But it looks like it will work." Despite some harsh critics who pointed out her culinary mistakes, Hilton's lasagna recipe continues to be one of her most notable creations to date.
Robert De Niro's business partner won't allow him to cook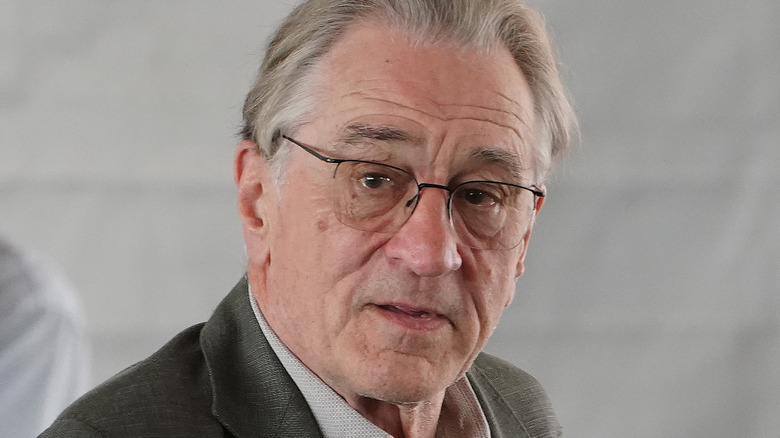 Oscar award-winning icon Robert De Niro is not only dedicated to his craft, but his widely successful business ventures. Together, he and his long-time business partner, Chef Nobu Matsuhisa, have made a name in the service industry with the co-ownership of 32 Nobu restaurants worldwide.
Matsuhisa has even starred alongside De Niro in multiple movies such as 1995's "Casino", to which he revealed that the "Meet the Parents" star doesn't bother with impressing his cohort in the kitchen. "He doesn't cook," Matsuhisa told The Standard. "I have been in four movies with him. I know how to play the movie, I know how to cook. So you know, I do both." De Niro is no stranger, however, to an exquisite meal. Matsuhisa was sure to praise the Hollywood icon, saying he truly appreciates and "understands the amount of work that goes in to the kitchen."
Amal Clooney went head-to-head with a hardboiled egg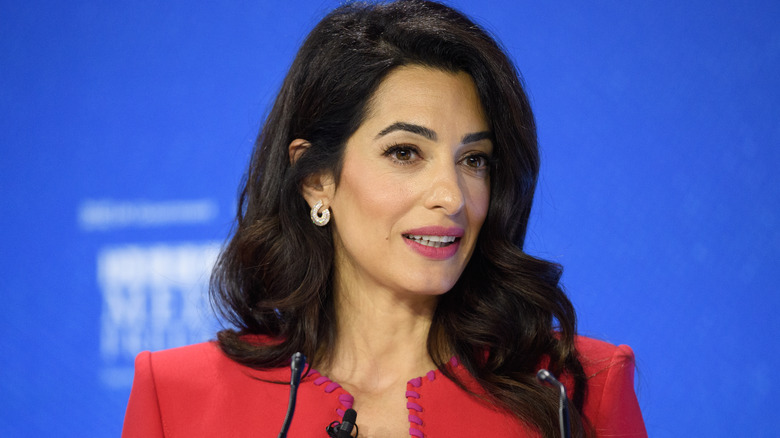 Not only do Hollywood power couple George Clooney and Amal Clooney look as though they stepped out from Vogue magazine, but the "Ocean's Eleven" actor let it be known during an appearance on "Jimmy Kimmel Live" in 2020 that he graciously tends to his wife by never letting her go hungry. "I cook for the family, I'm the chef," Clooney revealed. His statement was met with the utmost admiration for his wife as Clooney told Kimmel. "Look, my wife, she does amazing things, you know. She gets journalists out of jail in countries, Azerbaijan and Egypt, but when it comes to cooking, she makes reservations."
Clooney further went on to back his claim, recalling the time when Amal attempted to make a hardboiled egg. "She put the egg in the pan and turned the stove on without any water in the pan," he said. That's one way to ensure that the dreaded task of cooking will forever be taken care of!
Source: Read Full Article