Jason Sudeikis could lay claim to the superlative "America's older brother." He's exuded a fraternal, or even fraternity brother vibe, in a number of his most famous roles, from affable dudes and authority figures on "Saturday Night Live," to self-starting and self-assured protagonists in "We're the Millers" and "Horrible Bosses," and in later years, as the deeply conscientious and defiantly kind titular American football coach leading an English pro soccer team on the Apple TV+ show "Ted Lasso."
Throughout his time in the spotlight, Sudeikis has been in movies that've raked in the cash, generated cultural buzz for "Saturday Night Live," and earned a lot of plaudits for the absolutely beloved "Ted Lasso." However, he affects such an easygoing on-screen presence that he typically disappears into roles, and it's hard to tell where the character ends and where the actor and artist begins. Here's a look into the seldom-covered rise, motivations, and personal life of Jason Sudeikis.
Jason Sudeikis entered and exited SNL in non-traditional fashion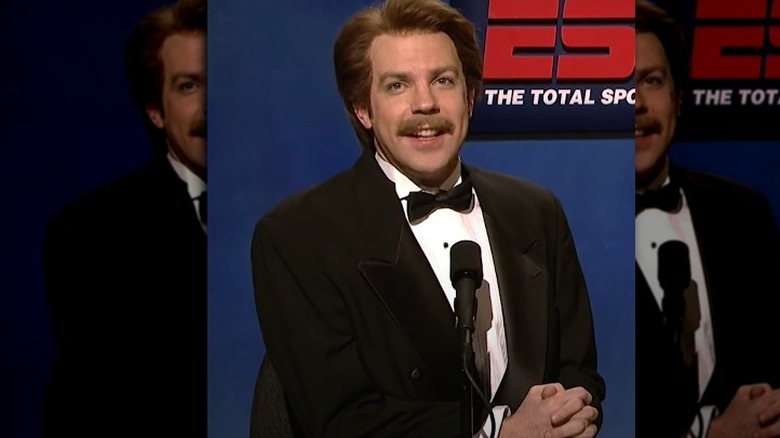 In the late 1990s, Jason Sudeikis decided to seriously pursue comedy, and according to GQ, he secured a spot in the live improv group ComedySportz before eventually joining the company of a branch of Second City in Las Vegas. The logical next stop would be "Saturday Night Live," but Sudeikis wasn't interested. "I didn't want to work on 'SNL,'" he said, theorizing that it was far too corporate. But then he was scouted for the show and offered an audition… and immediately changed his mind. His tryout was semi-successful — he was hired on as a writer, not as an actor. "It was like winning a gold medal in the thing you've never even trained for," he said.
Sudeikis moved to New York, leaving behind then-wife Kay Cannon, also a star of the Second City Las Vegas branch. For two seasons, Sudeikis contributed sketches to "SNL," but he was miserable. In 2005 he approached Michaels and said, "I had to give up two things I love the most to take this writing job: performing and living with my wife." Michaels took another look and later that year, Sudeikis joined the cast of "SNL."
Eight years later, he departed, announcing his exit on "The Late Show with David Letterman" a few weeks after his final episode. That meant he didn't get a big send-off, but he did participate in the swan song for Fred Armisen that year, looking glum while playing the drums in a musical sketch.
Ted Lasso began as a commercial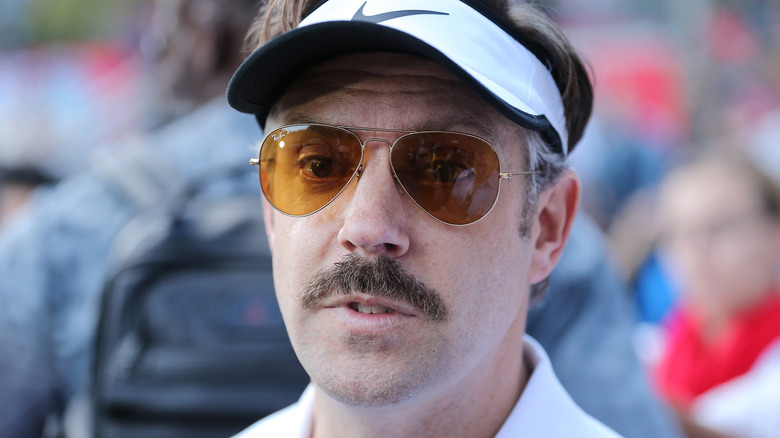 While advertising is pervasive and common, it rarely crosses over into other parts of the culture. But that's precisely what happened with Jason Sudeikis's hit, Emmy-adored Apple TV+ soccer comedy "Ted Lasso." In 2013, according to Yahoo! Sports, NBC Sports hired Sudeikis to generate a series of fun and funny commercials to promote English Premier League soccer game broadcasts. "They had like four or five ideas and one of them was an American coach coaching soccer in London, and they had modeled the idea off of a version of a coach character I had played a few times on 'SNL,'" Sudeikis told Entertainment Weekly. But that coach was harsh and nasty, and Sudeikis didn't want to play him that way anymore, so he tweaked it into "what ended up becoming Ted Lasso."
So how did an ad mascot become a streaming comedy? When "Ted Lasso" won the 2021 Critics Choice Award for Best Comedy Series, Sudeikis thanked his former partner Olivia Wilde, "who had the initial idea for this as a TV show," he said (via ET Online). "She was like, 'You guys are doing that so much, you should do it as a movie or a TV show.'" In 2015, Sudeikis, along with commercial collaborators Joe Kelly and Brendan Hunt — who'd go on to play Coach Beard on the series — teamed up with "Scrubs" creator Bill Lawrence and put together a full-length pilot script.
But is Jason Sudeikis like Ted Lasso in real life?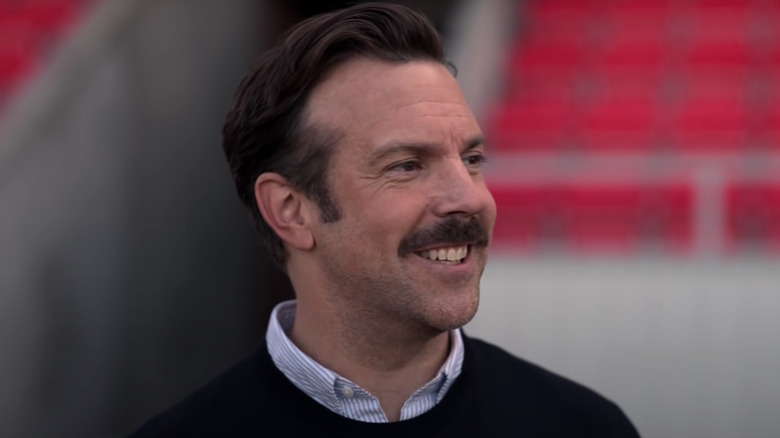 After leaving "Saturday Night Live" in 2013, Jason Sudeikis focuses on his burgeoning movie career full time, starring in hit comedies like "We're the Millers" and "Horrible Bosses 2." Sudeikis, like a lot of other actors, tends to get typecast as smug, smarmy, self-satisfied guys and total jerks, but he's gotten the best notices of his career for playing someone who is the complete opposite of that: earnest, caring, heartbroken American football coach turned English soccer team coach Ted Lasso on the Apple TV+ comedy "Ted Lasso." Orchestrating that shift was part of the plan all along for Sudeikis, who co-created the series.
"I just felt like it'd be nice to play someone" different than his usual characters "as a little bit of a challenge to myself," Sudeikis told Collider. "Someone who doesn't swear. A show that doesn't use snark as a currency. It was an expertise in trying to prove to myself that it's possible to be a good person and still be interesting."
In order to convincingly and compellingly portray the character, Sudeikis digs deep, but pleasantly so. "Ted does see the best in people and he really is the best version of myself," he said in Entertainment Weekly. "He's like me after two beers on an empty stomach on a bright sunny day, just like, 'With all of us together, what can't we do?'"
The many loves of Jason Sudeikis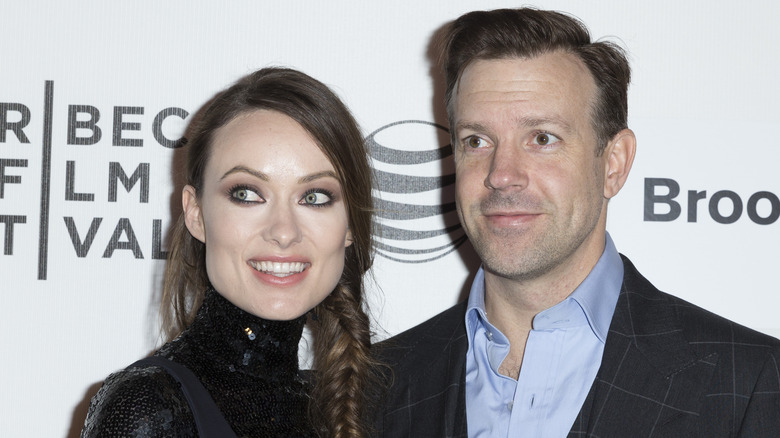 Jason Sudeikis has been one-half of a couple of high-profile, long-term relationships. According to Reuters, he was with Kay Cannon — a "New Girl" and "30 Rock" writer who also penned the "Pitch Perfect" trilogy and directed "Blockers" — for about a decade. They worked together in the Second City comedy theater organization, according to GQ, and after five years together, they got married. After four years, they separated and later divorced.
Within a couple of years, Sudeikis had rebounded and found love again. According to Us Weekly, he met Olivia Wilde, star of "House" and "TRON: Legacy," and the director of "Booksmart," at a "Saturday Night Live" wrap party in May 2011, and they started dating about six months later. In January 2013, Sudeikis proposed marriage (although the wedding never came to fruition), and in 2014 and 2016, Wilde gave birth to the couple's two kids, Otis and Daisy, respectively.
By November 2020, according to Sudeikis, it was all over. Wilde moved out of their home and in January 2021 reports emerged that she was dating pop star Harry Styles. However, Sudeikis didn't immediately understand why the second major relationship of his adulthood fell apart. "I'll have a better understanding of why in a year," he said in GQ, "and an even better one in two, and an even greater one in five."
The two Keeleys in Jason Sudeikis' world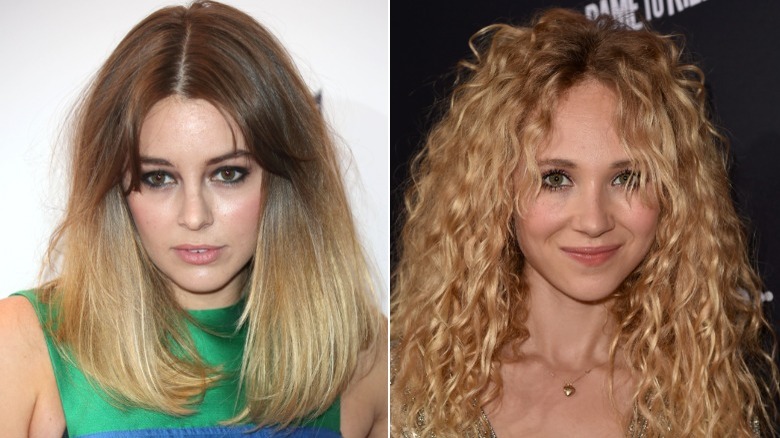 The individual career and personal paths of American comedian and writer Jason Sudeikis and English model and actor Keeley Hazell just keep intersecting. As People reported, the two celebrities met in 2014 when both were in the cast of "Horrible Bosses 2." In 2020, Hazell popped up on three episodes of Sudeikis's Apple TV+ series "Ted Lasso" as Bex, the very young woman for whom the much older soccer team owner Rupert Mannion dumps his wife. However, there's also a major character on "Ted Lasso" named Keeley: an English model and tabloid fixture portrayed by Juno Temple. That actor confirmed to Entertainment Tonight that Keeley Hazell — a model and tabloid fixture — directly led to Keeley Jones. "She is a friend of Jason that inspired some of Keeley's character," Temple said. "She was an inspiration for the part.
When Sudeikis conceived and constructed "Ted Lasso," he was engaged to actor Olivia Wilde. But as of 2021, after the first season of "Ted Lasso" aired, The Sun reported that Sudeikis and Hazell were indeed a romantic item.
And now, the musical stylings of Jason Sudeikis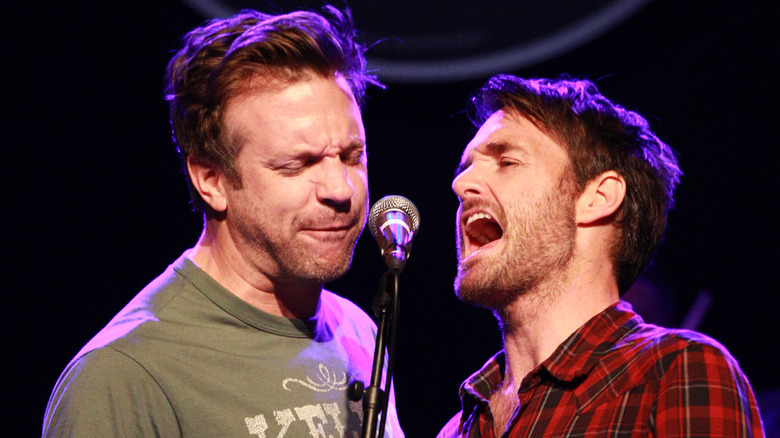 Counting his time as a writer, Jason Sudeikis worked at "Saturday Night Live" from 2003 to 2013, overlapping greatly with the tenure of co-star Will Forte, a cast member of the late night institution from 2002 to 2012. Sudeikis and Forte worked together well and often, appearing in numerous sketches together, notably as bizarre sportscasters Pete Twinkle and Greg Stink. Their close relationship extended past "SNL" and into other entertainment venues and their personal lives. Both were in the voice cast of "The Cleveland Show," for example, and Forte brought in Sudeikis to play his character's brother for a poignant arc on his post-apocalyptic sitcom "The Last Man on Earth."
Sudeikis' stint featured the two performing a surprisingly moving and expertly sung rendition of "Falling Slowly," the Oscar-winning love duet from the movie "Once." That's something the duo pulled straight from real life. "We do a lot of karaoke together," Forte told the Los Angeles Times. "We go and sing songs for hours and hours, getting into some deep cuts, but 'Falling Slowly' is one we do every single time."
Jason Sudeikis' favorite SNL sketch had a false start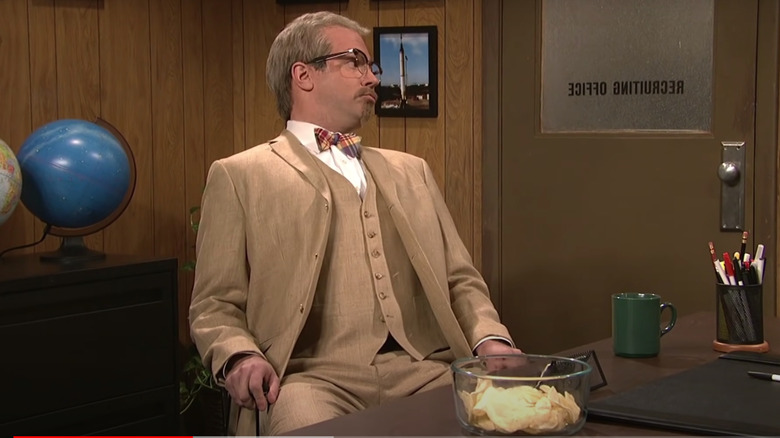 In 2015, Jason Sudeikis appeared on Bravo's "Watch What Happens Live with Andy Cohen" and dished about some behind-the-scenes truths from his time on "Saturday Night Live." Responding to a viewer question about what sketch from the show made him laugh more than any other, Sudeikis didn't hesitate to name "Potato Chip," an oddity that aired in 2009. In the very silly bit that's played extremely straight-faced, Will Forte (who co-wrote the sketch) plays a NASA recruiter interviewing an old-fashioned Kentucky colonel type (Sudeikis), and leaves the applicant alone with a bowl of potato chips, ordering him to not eat any of them. Sudeikis' character does, of course, and lies about it, and ultimately has to spit out the food and return it to its rightful owner. The recruiter berates all the while, assisted by a co-worker played by guest host Blake Lively.
"It's like a Tennessee Williams play," Sudeikis told Cohen, then revealing that he and Forte had tried to get the sketch onto "SNL" earlier in 2009, when Taylor Swift was a guest on the show. It made it to the rehearsal stage, but "Swifty couldn't get it over the goal line," Sudeikis said, theorizing that she "couldn't get the timing down."
Jason Sudeikis helped form a charity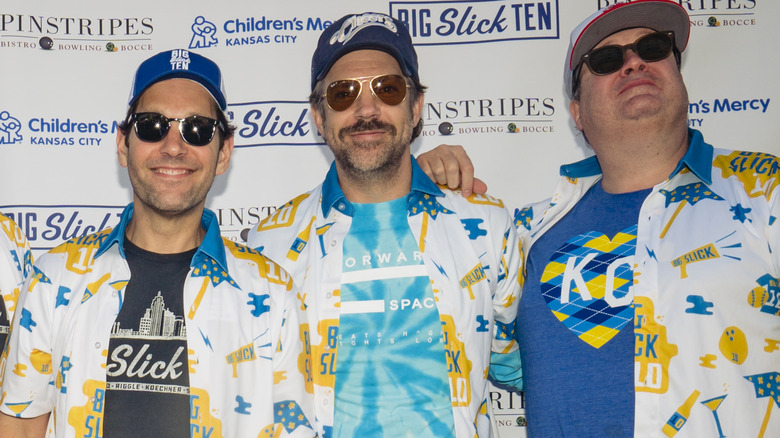 According to KansasCity.com, Jason Sudeikis grew up in Overland Park, Kansas, a sizable town not far from Kansas City, Kansas. He graduated out of the Shawnee Mission School District, per The University Daily Kansan, as did fellow "Saturday Night Live" veteran Rob Riggle and international movie star Paul Rudd. In 2010, those three got together with two more actors who grew up in the area who made it big — David Koechner of "SNL" and "Anchorman," and Eric Stonestreet of "Modern Family" — to raise funds for Children's Mercy Hospital in Kansas City, Missouri. Riggle put together a poker tournament and brought in high-profile colleagues (Koechner recruited "Anchorman" star Will Ferrell, Sudeikis attracted "SNL" cohort Will Forte) and altogether they generated $120,000 for charity. 
That first event evolved into a charitable organization called The Big Slick, and Sudeikis takes an active role in the endeavor, helping to plan each year's massive, star-studded fundraiser, which now focuses on bankrolling the Children's Mercy Hospital's Cancer Center. According to Parade, Sudeikis has assisted in generating upwards of $4.5 million via the busy Big Slick Celebrity Weekend, which generally includes a softball game and the stars hanging out at Children's Mercy with juvenile patients for a few hours.
Jason Sudeikis has a famous uncle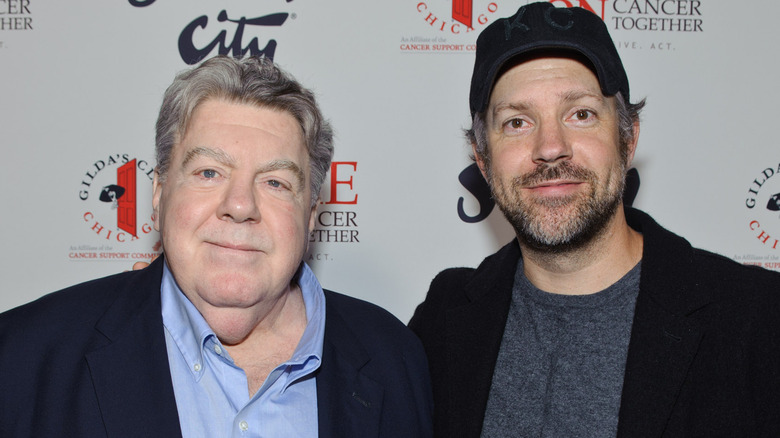 While Jason Sudeikis grew up in Kansas, far from showbiz capitals like New York City (where "Saturday Night Live" is produced) or Los Angeles (where the movie industry is headquartered), his path into entertainment wasn't that of a complete outsider. By the time he'd grown up and was looking to make a go of it as an actor, Sudeikis' maternal uncle had already starred on one of the most popular and acclaimed TV sitcoms of all time and been nominated for six Emmy Awards. That close relative: George Wendt, best known for his role as barfly Norm on "Cheers," which he played from 1982 to 1993.
"He's always been very encouraging," Sudeikis told Playboy (via HuffPost). "He was just a good example that being an actor was a viable option. Here's a guy from the Midwest, in my family, who took the road less traveled and it worked out for him." Sudeikis might be downplaying the significance Wendt played in his own career. In 1997, nearly a decade before he became famous as a "Saturday Night Live" cast member, Sudeikis landed his first screen role in the made-for-TV science-fiction comedy movie "Alien Avengers II." The top-listed star of that project: George Wendt, who seems like he did a favor for his aspiring actor nephew.
Jason Sudeikis had a massive crush on Ellen DeGeneres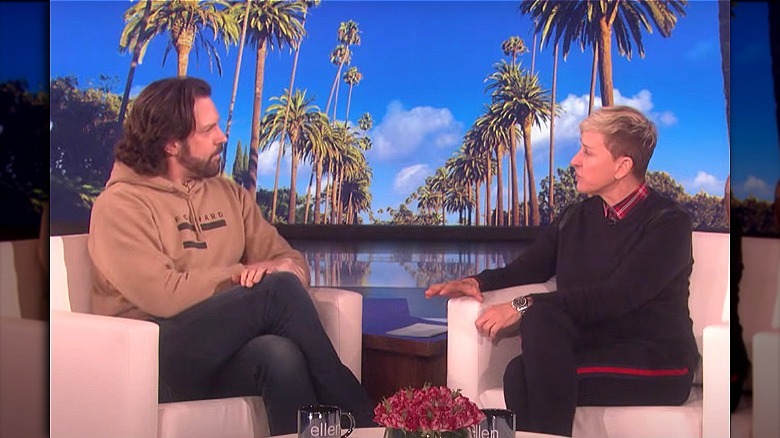 Jason Sudeikis is a conventionally attractive, if not handsome guy. In all likelihood, his agreeable appearance has helped to attract women that mainstream society would also deem good-looking. According to Us Weekly, he was once married to screenwriter and actor Kay Cannon, was in a long-term relationship with sex symbol Olivia Wilde, and as of 2021, was apparently dating model Keeley Hazell. That's all well and good, but who was his one true, undying celebrity crush from long ago? He confirmed to Elle that in college, he was really into stand-up comedian and talk show host Ellen DeGeneres. "It was 100 percent for real," Sudeikis said. "It was the gorgeous blue eyes. And she's hilarious. That's all it takes for me."
Young Sudeikis would likely be very pleased with middle-age Sudeikis, who has appeared on "The Ellen DeGeneres Show" nine times, and even stepped in to be the cue card holder on one episode. During one visit (via HuffPost), Sudeikis admitted that before he was famous, he got his TV star uncle, George Wendt, to get him into a taping of the sitcom "Ellen" so that he could meet the star and get a copy of her book signed.
Jason Sudeikis doesn't smell very well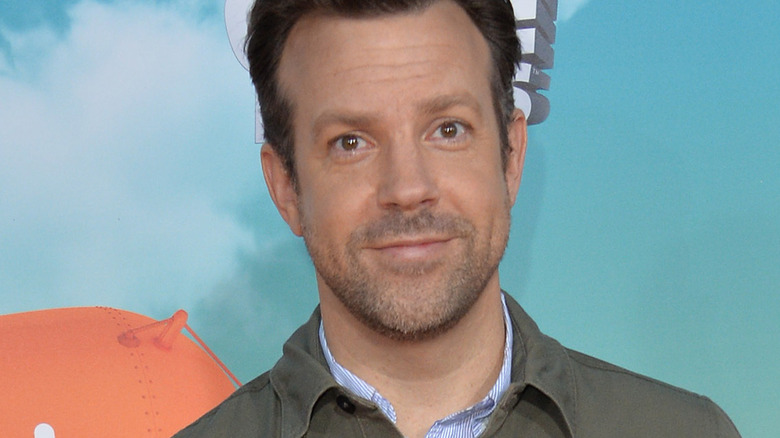 Movie stars may be wealthier, more talented, and generally speaking, better looking than the vast majority of the non-famous population, but they are still human beings with difficulties and slight imperfections. Even Jason Sudeikis, a successful comic actor of much renown, suffers from a physical setback: He has anosmia, or the inability to smell, and, consequently, he can't taste much of anything, either. "He was born without it," Olivia Wilde, his fiancée at the time, told People in 2015. The bright side, for Wilde, at least, is that "he thinks everything I cook tastes amazing! It really builds my confidence."
As an adult, Sudeikis endured a couple of medical issues that were both physical manifestations of stress and anxiety that came about from major life changes. In the early 2000s, according to GQ, he experienced a lack of hair growth around the time that he was working as an improv performer in Las Vegas, on the cusp of heading to "Saturday Night Live." About a decade later, when Wilde was pregnant with their son Otis, and in the months afterward, he was diagnosed with sciatica, a spinal and nerve issue that results in inflammation, numbness, and intense pain in the back and legs.
What is Jason Sudeikis' net worth?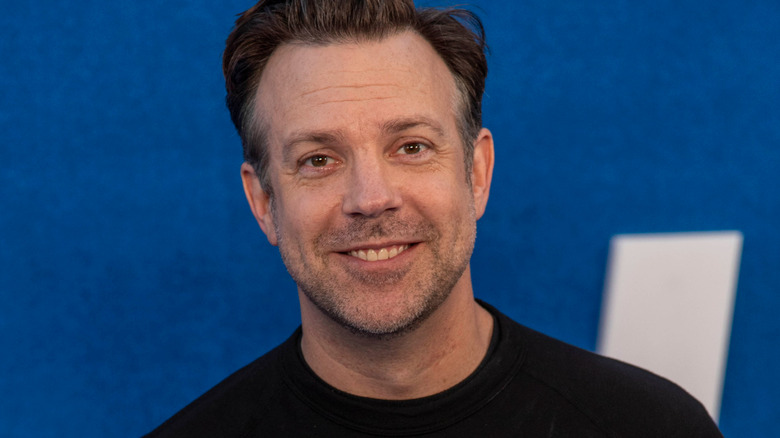 Jason Sudeikis must be doing pretty well for himself, financially speaking. He stars on "Ted Lasso," the signature and most talked about show on Apple TV+, a streaming service funded by the deep pockets of the company that has sold countless millions of smartphones, tablets, and laptops. Before that, he played multiple characters on Fox's hit animated sitcom "The Cleveland Show," which airs in reruns in lucrative perpetuity. Of course, Sudeikis isn't just a TV guy — he's a leading man, too, and he's headlined some big-budget, high-grossing big-screen hits. "We're the Millers," both "Horrible Bosses" installments, "The Bounty Hunter," and "The Campaign" all earned upwards of $100 million at the box office. He was also the paid pitchman for the huge Applebee's restaurant chain, according to The Week.
Clearly, Sudeikis is hauling in a lot of coin for being an affable and funny person, and he's one of the richest comic character actors working in Hollywood today. According to Celebrity Net Worth, the various accounts and assets of Sudeikis total about $20 million. Suffice to say, the dude can afford a lot of potato chips.
Source: Read Full Article