At this point, asking if there will be another season of a Kardashian-Jenner family reality show is like asking if the sun rises in the east. Like asking if the Pope is a Catholic. Like asking if Khloé and Tristan will (eventually) get back together. The answer just so obviously seems to be "yes," right?
ICYMI somehow, after starring on their E! series Keeping Up with the Kardashians for 14 years, the family made their way over to Hulu for their glossy new show The Kardashians, which premiered April 2022. Now, a second season of the show drops today on the streamer.
But, will reality TV's First Family™️ continue on to a third season? What do we know about whether The Kardashians will return yet again? Will these people continue promoting their many businesses on their show that also actively makes them money? (The answer to that is a resounding yes). Here's every piece of intel we've got so far about season 3 of The Kardashians on Hulu.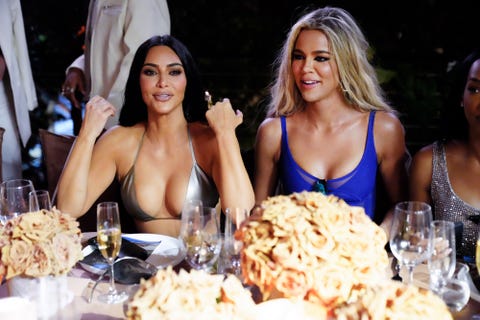 Is The Kardashians getting another season?
Yes! This part we know with all the relevant details. As previously mentioned, season 2 of The Kardashians is available today on Hulu. As with season 1, the episodes will be released weekly on Thursdays.
This season you can expect a glimpse of Kim Kardashian's (former) relationship with Pete Davidson, Kylie Jenner's second pregnancy with son Not Wolf, Kourtney Kardashian's wedding with Travis Barker, Khloé Kardashian and Tristan Thompson's new son, and the family's attendance at the 2022 Met Gala.
When is The Kardashians coming back for season 3?
A premiere date for The Kardashians season 3 has not yet been announced, but one of the sisters did confirm that it is filming.
"I've been filming season 3 here," Kourtney Kardashian told E! News during her boohoo by Kourtney Kardashian Barker event on Sept. 13. "We're shooting season 3 now."
No further information about the third season is available at this time, but there was other evidence that another season would be coming. In March, Variety reported that Hulu was planning two seasons of the show with a total of 40 episodes. We now know that the first season was only 10 episodes. If the plan is still for the show to have at least 40 episodes, then it sounds like it will get a third and a fourth season at this rate. After all, two seasons came out in 2022 alone. They're putting out this content q-u-i-c-k-l-y.
What will happen in The Kardashians season 3?
When The Kardashians returns for season 3, we already know what some of the storylines might include since this family's business always spreads ahead of time on social media and in entertainment news headlines. Basically, as long as more seasons happen, you know the Kardashian-Jenners will come up with something to include. Never forget: KUWTK had an entire ongoing storyline about Khloé and Scott Disick doing art pranks.
Source: Read Full Article