When it comes to the next generation of the Hanks family, Chet Hanks is most certainly an anomaly. Brash, unapologetic, and unbothered by others' opinions, Chet — the third child of the wholesome and widely respected acting legend Tom Hanks — has stepped out of his father's shadow and cultivated a unique persona around himself.
With his tattooed frame, constant advocating for "white boy summer," and rap career under the names Chet Haze and Chet Hanx, Chet has unquestionably taken the road less traveled — subverting any and all expectations one may have of him being the son of such a revered actor. And while his father is busy pumping out newer films like "A Beautiful Day in the Neighborhood" and "News of the World," Chet is busy rapping in Jamaican patois and causing controversy everywhere he goes (he even likened COVID-19 to the flu in an anti-vaxx message).
With his boisterous online persona, Chet can be seen on social media living lavishly on sun-kissed beaches and promoting Chet Hanx music. Oftentimes shirtless, his social media presence is also characterized by gym selfies and him vibing out to his own rap tunes, showing off his athletic build and incredibly detailed body ink in the process. With that being said, what exactly is the deal with all of Chet's tattoos? Keep on reading to find out!
Does Chet Hanks' ink have Illuminati ties?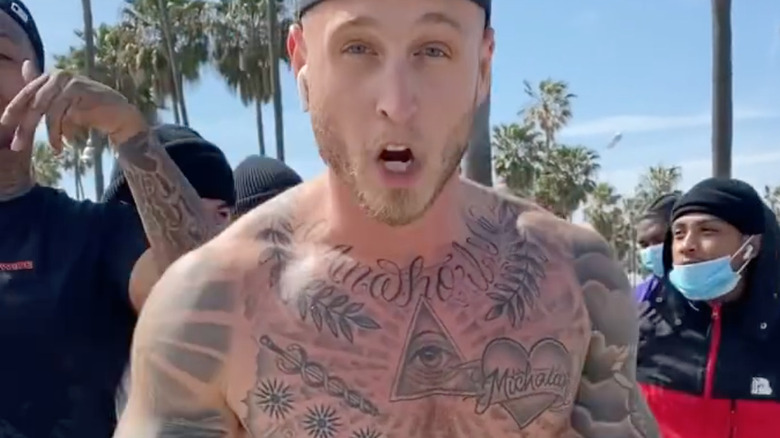 While many may view the massive eye encapsulated in a triangle tattoo as a proclamation of his loyalty to the secret society known as the Illuminati, Chet Hanks vehemently shut those rumors down and explained its "spiritual" qualities. In a now-deleted Instagram video, Chet stated that he was "not actually in the f**king Illuminati" and chalked it up to internet users sticking to their "weird internet conspiracy theories."
The 31-year-old then clarified that he got the tattoo because he is "extremely spiritual" and that he believes "that God oversees everything [and] has a plan for everything" (per E! News). The actor's profanity-laced tirade came off the heels of a video, in which he jokingly pretended to be in the Illuminati. In explaining the video's satirical nature, Chet said, "Does it look like I'm in the f**king Illuminati dude? I got a bunch of s**tty ass f**king furniture in here" and noted that "[not] every f**king conspiracy out there is the f**king truth."
So now that we've clarified that the rapping son of Tom Hanks is not a member of any secret societies, what about his other tattoos?
A tribute to his daughter and his faith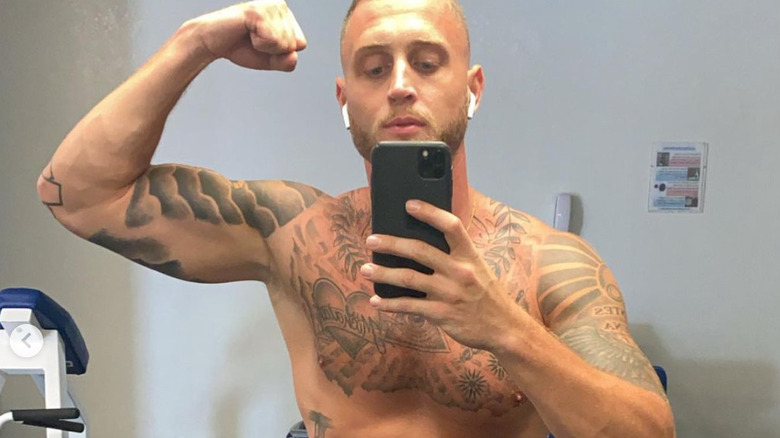 Chet Hanks has a massive tattoo over his heart that reads "MICAIAH," appropriately encased in a heart. Why? Because the rapper is actually a father of one! Sharing the daughter with former partner Tiffany Miles, Micaiah was born in April 2016 — and it was Micaiah's arrival that Chet credits with allowing him to kick his drug addiction.
Chet told ET that it was the "prospect of having a kid" and knowing "in nine months there's gonna be a baby here" was reason enough for him to finally get clean. "There's a part of you that knows that you need to make a change but you can't really shut that door on your life and just move on to a new chapter," Chet further stated, noting that it took fatherhood "for me to make the change."
While Chet may come off as an oddball at times, there's no denying that his tattoos have beautiful meanings. Going off of his "spiritual" affirmations, he also has the Virgin Mary with baby Jesus tattooed on his left shoulder, along with a massive Byzantine cross on his back (per Honey and Hemlock).
Source: Read Full Article