Tom Hanks joined the Five Timers Club on Saturday Night Live in 1990 and then he kept going. SNL fans never got to see all of Hanks' work though. One sketch he did with David Spade on a '90s SNL episode got cut in the dress rehearsal, but Spade and Hanks are telling the world about it now. 
Hanks was a guest on Spade and Dana Carvey's podcast Fly on the Wall on Feb. 2. As they reminisced about the episodes they did together, Spade reminded Hanks of the sketch they bombed before air.
David Spade wrote a 'Saturday Night Live' sketch for Tom Hanks
Spade was a writer and performer on Saturday Night Live from 1990 – 1996. It could have been one of his earliest '90s SNL shows that he pitched "Subway Surfing" for Hanks.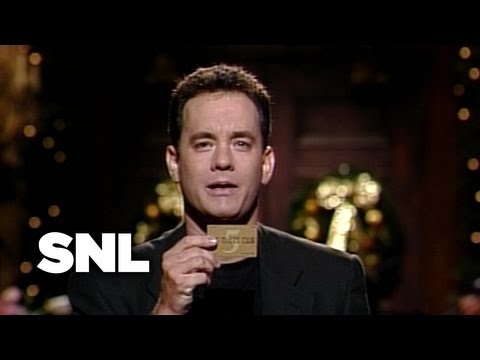 'Saturday Night Live' Star Colin Quinn Wishes He'd Quit 'SNL' Sooner
"When I was a writer/performer and Tom came in, one thing was funny was that Tom let me write a sketch for him that didn't make it to air: Subway Surfing," Spade said on Fly on the Wall. "It was a good idea that I got to write with the host. I think in the middle of dress [rehearsal] we were giving it everything and looking at each other going, 'It's not happening.' It's the worst feeling. You're like, 'F***, God damn.' 
Tom Hanks remembers the deleted 'Saturday Night Live' sketch verbatim
Even though they didn't get to perform "Subway Surfing" on Saturday Night Live, it must be rewarding to Spade that Hanks still remembers the lyrics in 2022.
"It was a full song," Hanks said. "We were ruffians who were essentially a surf gang who rode the subways. Some of the lines were 'Don't be afraid of a youth gang turf war, just stand up and balance and make it a surf war. You don't need a wetsuit, a board or an ocean. The Transit Authority provides you the motion.'"
Hanks sang more of "Subway Surfing" a cappella. Imagine a Beach Boys crooner.
"The bridge was I-N-T ooooh. D-M-D bow bow bow bow, I-R-D wow wow wow wow, subway shuttle, subway shuttle, subway shuttle ba ba ba ba ba ba ba."
Lorne Michael killed 'Subway Surfing'
Both Hanks and Spade have the same recollection of why the sketch bombed. Saturday Night Live creator and executive producer Lorne Michaels always had the final word.
"Here's the thing," Hanks said. "Lorne hated it. He just said, 'I don't get it. Do you live in the subway? Why?'"
Spade took some of the responsibility for failing to sell "Subway Surfing."
"He put the whammy on it because we gave it f***ing everything," Spade said. "Sometimes when you do a sketch, if you just get off, sometimes you get off on the wrong foot. If you just had two takes it would be great. You just start you go, 'Can I start again?' Instead you're in it and you're like god dammit, it's going."
Source: Read Full Article