There are many fan-favorite couples on The Young and the Restless. One of the pairings is Nick and Phyllis, and they have had an on-and-off relationship for years. The series seems to be creating a love triangle between him, her, and Jack. It would appear that history may repeat itself with the two characters. Except, many fans of The Young and the Restless want Nick and Phyllis to stay together despite the obstacles they face. Keep reading to learn more.
'The Young and the Restless' fans enjoy seeing Nick and Phyllis together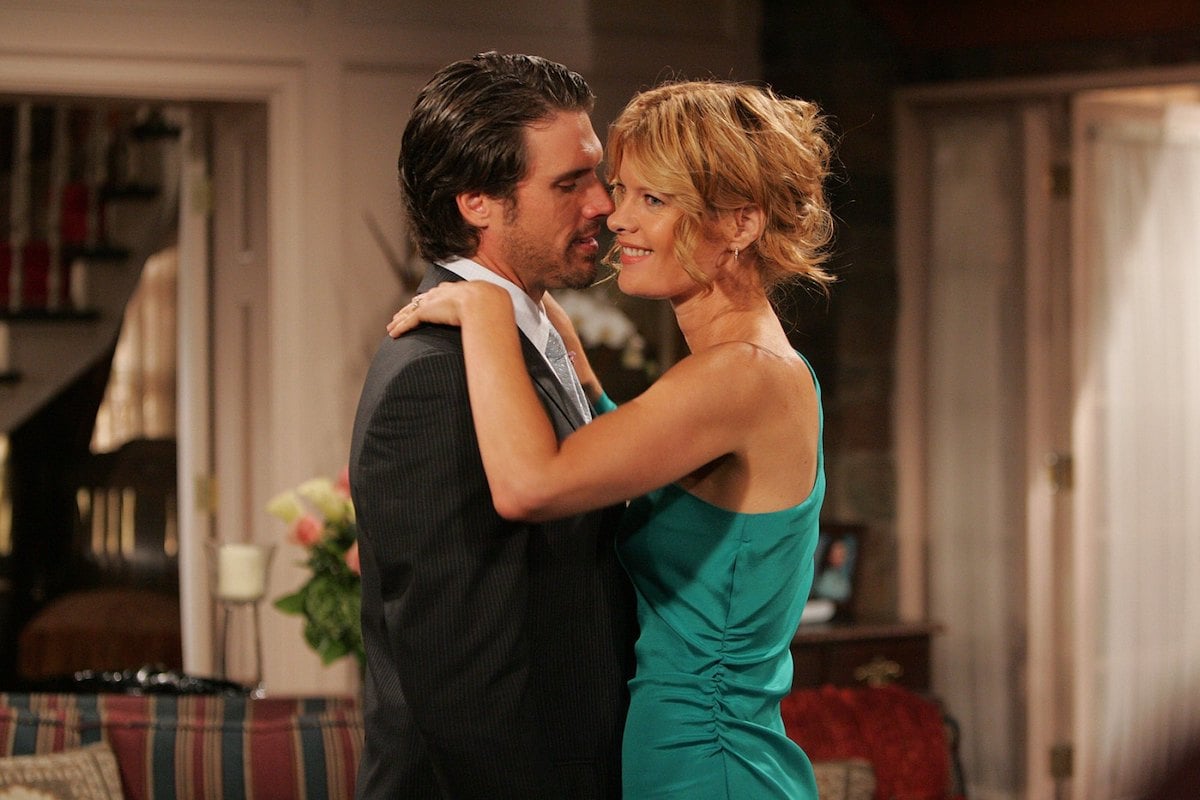 The couple's name for Nick and Phyllis is "Phick," and the show's official account on Twitter posted a teaser of the two. Some fans responded that they enjoyed seeing Nick and Phyllis with other people. For example, one user is OK with whatever happens as long as Sharon and Nick are together.
While some people agreed, other The Young and the Restless fans wanted Phyllis and Nick back together again. A few viewers do not see a reason for the characters to break up. They even desire Nick and Phyllis to tie the knot.
"The Power of #phick family! 319 hearts, a lots of comments and almost every post about them goes viral! People love them! Don't break up Phyllis and Nick!," Twitter user PhickNewmers wrote.
Multiple fans did not want them to break up before and hoped that it would not happen again for no valid reason. The Young and the Restless is constantly filled with drama and twists, so it looks like viewers will have to keep tuning in to see how Phyllis and Nick's relationship progresses in the future.
Trouble in paradise could lead Phyllis back to Jack
Even though Nick and Phyllis got back together, their relationship was on thin ice. Jack continues to have feelings for Phyllis, and Nick has concerns about her feelings toward Jack. Not to mention, Sally came to stir trouble between the couple once again.
Phyllis trusts Jack enough to talk about her current troubles with him. The two of them embraced each other by the end of the conversation. Sally couldn't help but take a photo of the two as part of their feud. Later, Nick ended things between him and Phyllis.
Some viewers are guessing that the breakup could lead to Phyllis and Jack having a fling once again. The two of them have been together in the past, but they got a divorce. Now that Nick has dumped her, Phyllis will have to figure out what man she wants in her life.
The show has foreshadowed a possible reunion between the two when Jack confesses that he loves her. Although she acts like a supporting friend, some people wonder if she loves him back.
Phyllis and Nick have a long history
A rundown on Fandom Wiki explains that Nick and Phyllis began a tryst while Nick is with Sharon. They continued to have an affair after he divorced Sharon. At some point, Phyllis became pregnant with her daughter Summer. Two people could be the father, but a test revealed that it is Nick.
Nick and Phyllis got engaged and traveled to Texas to get married before she gave birth. Of course, they later had another wedding ceremony in Genoa City to make their marriage legal. However, some drama occurred when Sharon showed up with unresolved feelings for Nick.
Phyllis divorced Nick after he had an affair with Sharon. Eventually, they fell in love with each other all over again and tied the knot. Now, trouble is stirring between them once again. Besides Jack having a large presence, Nick's estranged relationship with Victoria is affecting the couple.
The outlook does not look good and takes a toll on them. As evident by their history, the characters may break up only to get back together in the future.
Source: Read Full Article