Key posts
RBA to dampen the Christmas cheer with another rate rise
PM's COVID diagnosis delays energy price talks
This morning's headlines at a glance
RBA to dampen the Christmas cheer with another rate rise
The Reserve Bank is poised to increase official interest rates for a record eighth consecutive month today as evidence suggests the nation's strong jobs market is finally swelling the size of workers' pay packets.
At its final meeting of the year, the RBA board is expected to lift the cash rate to a 10-year high of 3.1 per cent. It would cap the most aggressive tightening of monetary policy by the bank since 1994 after holding the cash rate at 0.1 per cent in April.
A quarter percentage point increase would take the average discounted mortgage rate to 6.55 per cent. In April, the average was around 3.45 per cent. The lift in interest rates, on a $750,000 mortgage, has added $1418 to monthly repayments.
More on this issue here.
PM's COVID diagnosis delays energy price talks
A meeting between federal and state leaders to strike a deal on power prices has been delayed after Prime Minister Anthony Albanese came down with COVID-19 yesterday, dragging out talks when NSW and Queensland are warning against any hit to at least $9 billion in combined annual coal royalties.
Albanese returned a positive test for COVID-19 last night, shelving plans for him to discuss the energy strategy with state and territory leaders at a dinner at Kirribilli House this evening and forcing a delay to the national cabinet meeting scheduled for tomorrow.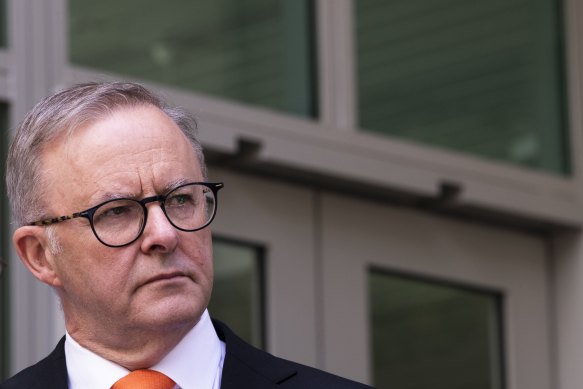 Prime Minister Anthony Albanese came down with COVID late on Monday.Credit:Alex Ellinghausen
It is not known when the meeting will be rescheduled, throwing into doubt the likelihood that a solution to soaring power prices could be signed off before Christmas.
Albanese was preparing to discuss the issue of compensation with premiers to help broker a solution to the energy crisis, as NSW and Queensland repeat their demands for payments to be included in any proposal to cap coal prices.
It's the second time the PM has contracted the virus.
Read the full story here.
This morning's headlines at a glance
Good morning and thanks for your company.
It's Tuesday, December 6. I'm Broede Carmody and I'll be anchoring our live coverage for the first half of the day.
Here's what you need to know before we get started.
At 2.30pm AEDT we'll learn if the Reserve Bank will increase interest rates for a record eighth consecutive month. Shane Wright and Rachel Clun have the full story.
Tonight's dinner between the prime minister and state and territory leaders to discuss a deal on power prices has been delayed after Anthony Albanese tested positive to COVID-19 for the second time. Tomorrow's national cabinet has also been pushed back.
Foreign Minister Penny Wong and Defence Minister Richard Marles are in the Washington today for talks with their US counterparts.
And people who received robo-debt notices will start giving evidence to the royal commission today. Yesterday, the commission heard that the Department of Human Services and the Commonwealth Ombudsman collaborated extensively on the watchdog's investigation into robo-debt back in 2017.
Most Viewed in National
Source: Read Full Article