Jetstar passengers were stranded for hours at Ho Chi Minh City airport early on Tuesday morning when a safety issue forced the cancellation of their flight to Melbourne.
The frustrating hold-up came just two days after the airline had more than 300 passengers stranded on the tarmac at Alice Springs when a flight from Thailand was grounded.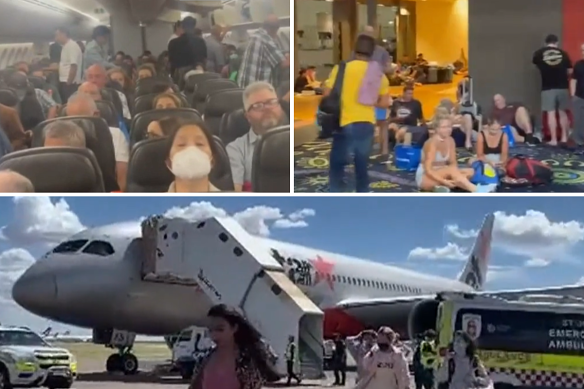 Another aircraft issue has left Jetstar passengers stranded. Credit:Nine
Melbourne-bound Jetstar flight JQ64 was scheduled to depart Vietnam at 10.35pm on Monday (Indochina time), but was delayed because of an issue with the door of the Boeing 787-8 aircraft.
Passengers waited for hours at the Vietnam international airport awaiting news on the flight, before it was officially cancelled about 4am.
In a statement released to media, Jetstar said the issue required a part to be flown in from Singapore. It is a two-hour flight time between the two airports.
"Customers are being provided with hotel accommodation and other reasonable expenses and the flight is expected to depart Ho Chi Minh City on Tuesday night," the statement said.
"We never want to delay a flight, but safety is always our number-one priority, and we apologise for the inconvenience."
Speaking to 3AW from Tan Son Nhat International Airport, passenger Dean Debattista said those travelling were only made aware of the cancellation via an email, which was sent 30 minutes after the airline released an initial statement to the media.
Debattista said the saga began when, after an initial delay, passengers boarded the Boeing 787-8 airliner about 12am, and were told to get off soon after they sat down.
"We got off, no idea what was happening, we just sat down [at the gate]," he said.
"Forty-five minutes later, we were told to get back on the plane to board. As soon as we got to the doors we had one of the air hostesses run out and say 'no one's boarding, get back, everyone get back'."
After waiting another three hours, as passengers – including children – lay on the tiles of the airport in the early hours of Tuesday morning, Debattista noticed their checked-in baggage was being taken off the plane. He said this was the first indication the flight had been cancelled.
"It's pretty crap that we weren't [kept] in the loop," he said.
The passengers were told they'd be taken to their accommodation until their re-scheduled flight was expected to take off on Tuesday night.
Debattista's criticisms echoed those booked on a different flight, JQ30. Those passengers were kept on the tarmac for more than seven hours on Sunday after the plane made an emergency landing in the Northern Territory.
That flight departed Thailand just before 9.30pm (Bangkok time) before being diverted to Alice Springs, where it landed about 7.20am, because of a medical emergency seven hours into the flight.
The 320 passengers had to stay inside the Boeing 787-8 Dreamliner on the tarmac for a further seven hours after landing, after an electrical fault was detected on the plane.
Passenger Zaiyana Karim said she was frustrated by the lack of communication from airline crew, who told passengers the replacement flight was on its way, when it had not departed.
"I did find the crew were a bit panicked and a bit clueless," she said. "We had to actively seek out information from them … it was really [the passengers] taking the initiative."
More to come.
The Morning Edition newsletter is our guide to the day's most important and interesting stories, analysis and insights. Sign up here.
Most Viewed in National
From our partners
Source: Read Full Article