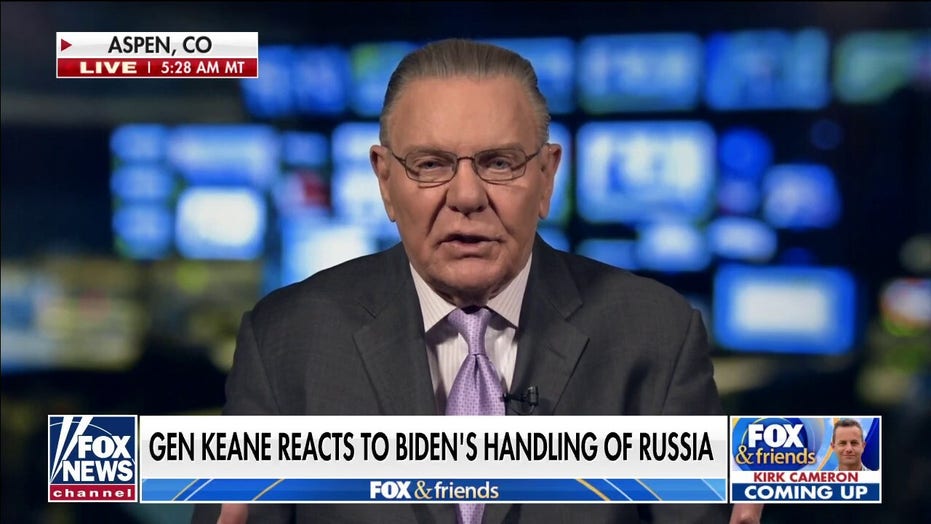 Gen. Keane: Biden has rejected all proposals to deter Russian invasion of Ukraine
Fox News senior strategic analyst Gen. Jack Keane on how the U.S. should intervene in the Russia-Ukraine conflict.
The State Department has considered pulling families of diplomats out of Ukraine over fears of a Russian invasion, according to reports.
Russia has amassed a force of around 100,000 troops near Ukraine's border as talks continue between the Russian Foreign Ministry and the U.S. State Department.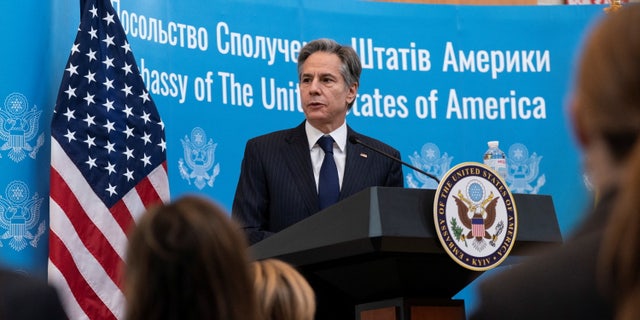 Secretary of State of U.S. Antony Blinken speaks as he greets embassy staff at the U.S. embassy, in Kyiv, Ukraine, January 19, 2022. Alex Brandon/Pool via REUTERS
The U.S. has considered a plan that would move family members back stateside while giving non-essential employees the option of leaving voluntarily. An announcement to this effect may come within days, people with knowledge of the department's preparations told Bloomberg. Around 180 American citizens work at the embassy in Kyiv, but the number of U.S. citizens living in nearby embassy housing is much higher.
And The New York Times earlier this month reported that Russia started to evacuate employees from its embassy in Kyiv on Jan. 5.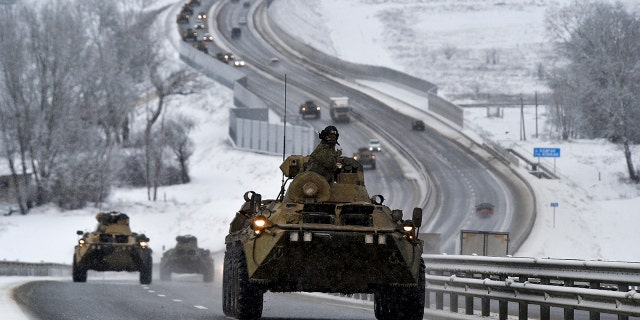 A convoy of Russian armored vehicles moves along a highway in Crimea, Tuesday, Jan. 18, 2022. Russia has concentrated an estimated 100,000 troops with tanks and other heavy weapons near Ukraine in what the West fears could be a prelude to an invasion. The Biden administration is unlikely to answer a further Russian invasion of Ukraine by sending U.S. combat troops. But it could pursue a range of less dramatic yet still risky options, including giving military support to a post-invasion Ukrainian resistance. 
(AP Photo)
But the State Department told Fox News that it has "nothing to announce at this time."
"We conduct rigorous contingency planning, as we always do, in the event the security situation deteriorates," a department spokesperson said. "We are already at a Level Four travel advisory for Ukraine for COVID and have advised that U.S. citizens should be aware of reports that Russia is planning for significant military action against Ukraine."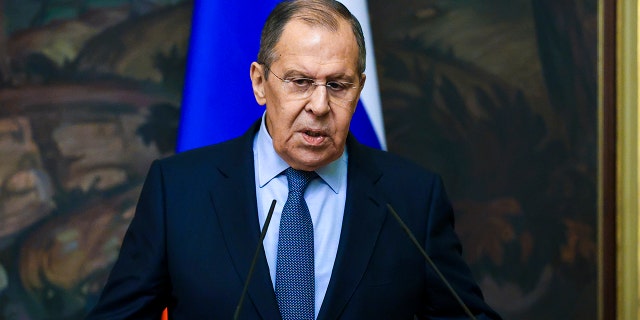 In this handout photo released by Russian Foreign Ministry Press Service, Russian Foreign Minister Sergey Lavrov gestures while speaking during a joint news conference with and German Foreign Minister Annalena Baerbock following their talks in Moscow, Russia, Tuesday, Jan. 18, 2022. 
(Russian Foreign Ministry Press Service via AP)
The spokesperson did say that if the department changes its stance, diplomats and their families should not anticipate a government-sponsored evacuation.
"Currently commercial flights are available to support departures," the spokesperson added.
White House Press Secretary Jen Psaki repeated the State Department's statement, adding that the State Department handles any security assessment and will advise on any evacuation plans.
The State Department may not want to repeat the images of panic that occurred during the last-minute evacuation from Afghanistan in August 2021, when the Taliban moved into Kabul.
Hundreds of U.S. citizens and thousands of U.S. residents remained stranded in Kabul after the last military plane departed from the Kabul airport. Since the end of August, the U.S. continued to assist 479 American citizens to leave the country, and 126 Americans remained in the country as of Dec. 19.
Source: Read Full Article