When asked about succession planning, Rupert Murdoch once famously quipped that he planned to "live forever".
Newly published photographs of the media mogul on holiday with "a new female companion" 25 years his junior suggest he still believes age is just a number – even at 91.
Rupert Murdoch enjoys the Barbados sun in the company of Ann-Lesley Smith.Credit:CHRISBRANDIS.COM / BACKGRID
Soaking up the Barbados sun in the company of Ann-Lesley Smith, a one-time police chaplain and wife of the late US country music star Chester Smith, the father of six and grandfather of 13 still appears young at heart – less than six months after his divorce from fourth wife Jerry Hall.
Timing is everything. The pictures have been released as a controversial $US27 billion ($38.6 billion) plan is underway to reunite the two halves of Murdoch's empire – Fox and News Corp – and planning for the future of the company amps up. What is the message he is trying to send?
As Dominic Ponsford, the editor of the Press Gazette, put it: "It certainly does not harm Rupert, at the age of 91, to be exuding an image of vitality and virility when what happens next with News Corp and Fox remains the talk of Fleet Street."
Murdoch is said to have met Smith in November.Credit:CHRISBRANDIS.COM / BACKGRID
Smith, a former dental hygienist, model and radio presenter, is now being touted as the fifth Mrs Murdoch – despite the pair having only been together for a matter of weeks.
The billionaire is understood to have met Smith in November and while news of their relationship has been known to their inner circle for more than a month, it only became public knowledge this week following the release of the pictures, taken as they dined on a beach on the Caribbean island.
The couple is thought to be staying at Heron Bay, the Palladian-style mansion owned by JCB boss Anthony Bamford and his wife Carole on the island's exclusive west coast.
Dressed in a yellow halterneck bikini and a matching sarong with a large diamond crucifix pendant, Smith appeared relaxed in Murdoch's company as they chatted. The press baron, whose vast empire includes The Times, The Wall Street Journal and Fox News, was in holiday mode. He wore a white baseball cap and sunglasses, although they stuck to drinking water, not cocktails. As a friend put it: "He seems very happy."
Rupert Murdoch and Jerry Hall on their wedding day in London in 2016.Credit:John Phillips/Getty Images
Little is known about Smith beyond an interview she gave to the Christian Broadcasting Network (CBN) in which she revealed how she had found God following the breakdown of her first marriage to "John", who she claimed "physically abused me, mentally abused me".
Another interview with Californian newspaper The Modesto Bee reveals that "as a young woman", Smith "married into the Huntington railroad family in San Francisco". Collis Potter Huntington, who died in 1900, was an American industrialist and railway magnate who was one of the original investors in the Central Pacific Railroad, America's first transcontinental railroad. The family soon became one of the wealthiest in America.
In both interviews, Smith talks of being "rich and poor".
"During the day my life was just so fun," she told CBN. "John was into cars, and we had a stable full of every kind – exotic Ferraris and everything. I spent $65,000 a month on clothes easily. Money was not an object. I had everything in the world". Yet, according to the article: "A bitter divorce and a prenuptial agreement left Ann-Lesley with no place to live," adding: "This once wealthy socialite went from riches to welfare."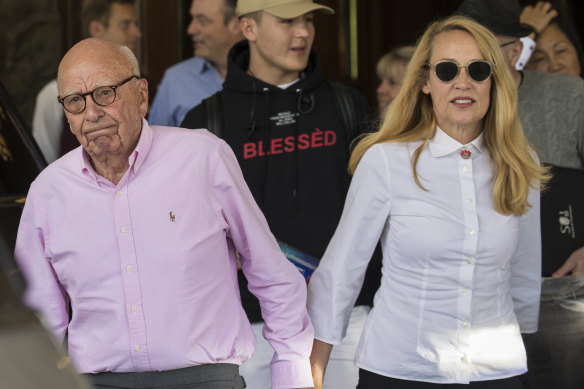 Rupert Murdoch and Jerry Hall split after six years of marriage and finalised their divorce in August 2022.Credit:Getty
After reaching rock bottom, she turned to Christianity, saying: "As I began to walk with God, the things of the world just seemed pointless to me." It was while she was working as "Reverend Ann", a volunteer police chaplain on the streets of Marin County, California, that she met her future husband, also a devout Christian. The couple released an album, Captured by Love, in 2005. Three years later, having split from her and remarried, Chester Smith died of a heart attack aged 78.
Yet the parallels between the multi-millionaire country singer – who owned dozens of radio and TV stations across California and Oregon – and Murdoch are obvious.
And as someone who as recently as five years ago presented her own "agony aunt" style radio show, Smith's counsel could prove invaluable as he navigates the next crucial steps for his media megacorp.
As she put it in 2017: "Everybody's got turmoil, and turmoil is the reason for financial problems, relationship problems, wrong marriages, working in dead-end jobs, not being able to get along with people. If it doesn't get any light or sunshine, it will never get healed – it will keep on going and festering and growing."
Having been married four times – first to former flight attendant Patricia Booker (1956 to 1967), then to journalist Anna Torv, 78 (1967 to 1999), next to Chinese-born entrepreneur Wendi Deng, 54 (1999 to 2013) and then to Hall, 66 (2016 to 2022), there is a sense that Murdoch doesn't much like being alone. Indeed, the three years between Murdoch divorcing Deng, amid reports of her "closeness" to former prime minister Tony Blair, and marrying Hall in 2016, was the only time Murdoch has been without a spouse since he was 25.
He married the former long-term partner of Rolling Stones singer Mick Jagger just two months after the surprise announcement of their engagement in The Times in 2016. Yet the seemingly lovestruck couple broke up after just six years – with some citing the Texan former model's smoking as being partly to blame for the breakdown of the relationship.
Other reports suggested the relationship deteriorated during the lengthy pandemic lockdowns, with multiple sources hinting that Hall had clashed with Murdoch's children from his previous marriages. It was even suggested that Lachlan, Murdoch's chosen heir apparent, helped to arrange the divorce and discussed potential PR strategies for handling the fallout.
Murdoch has one daughter, Prudence, 65, with his first wife Patricia, now deceased, as well as three children – Elisabeth, 54, Lachlan, 51, and James, 50 – with Torv, and two daughters – Grace 22, and Chloe, 20 – with Deng.
Rupert Murdoch and Wendi Deng in New York in 2003.Credit:AP
Although the divorce papers cited "irreconcilable differences" with Hall, the proceedings were over within two months, with their representatives insisting that: "They remain good friends and wish each other the best for the future."
Hall ended up with a multi-million pound settlement including an £11 million Oxfordshire mansion, but no control over Murdoch's US properties. It came after he paid about $US1.7 billion to settle his 1999 divorce from Torv and paid a substantial sum to Deng.
While he may have tied up his marital finances, there remains uncertainty over how he will hand down his empire, estimated to be worth $US21.7 billion ($31 billion) as of March 2022.
In October, Murdoch and Lachlan backed the creation of "special committees" of independent board members to explore a plan to reunite Fox with News Corp after they split in 2012 in the wake of the phone hacking scandal that shut down the News of the World.
Yet while Murdoch and his son and chosen successor favour the idea – it is unlikely to go down well with shareholders who think the businesses are worth more if they are kept separate.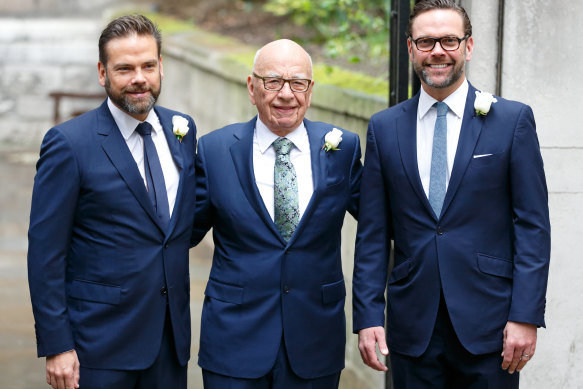 Rupert Murdoch, flanked by his two sons, Lachlan, left and James, in 2016.Credit:Getty
At nine years shy of his 100th birthday, Murdoch is thought to be eyeing up "one last deal" to secure his legacy, but his four eldest children all wield a veto over fundamental changes to the family trust. (Grace and Chloe were made beneficiaries in 2006 but they don't have any voting rights nor any say over how the trust is governed for another decade). The stakes could not be higher: all six children were each given $US2 billion when Murdoch sold 21st Century Fox to Walt Disney in 2019.
As Murdoch acknowledged in 2000, "If the kids fought hard enough, the whole thing would break down; there is no mechanism against that happening."
It hasn't helped that while Lachlan, who oversees Fox News, is said to be even more right-wing than his father, James has made no secret of his desire to change the direction of the channel once his father is no longer at the helm. Clearly still bristling after being overlooked for succession, in an interview with the FT in 2021, he chastised "insidious forces" behind the US Capitol attack unleashed by "outlets that propagate lies to their audience". He is thought to be largely estranged from Lachlan – although the brothers put on a united front for their father's wedding to Hall at Fleet Street's St Bride's Church. Yet, as in the HBO drama Succession, thought to be loosely based on the Murdoch family, a titanic struggle for control of the future of the dynasty seems inevitable – with no one certain which siblings will side with Lachlan and which with James.
The introduction of Smith into the fray has the potential to deepen tensions even further, especially if it is more than simply a holiday romance.
However serious, the timing of his sun-kissed sojourn hitting the news stands is not unhelpful to Murdoch at such a crucial stage in the mapping out of his illustrious legacy.
The Telegraph, London
Most Viewed in World
From our partners
Source: Read Full Article