WA Police still believe the alleged abductor of Cleo Smith acted alone, despite detectives returning to Carnarvon to explore whether another person could have been involved.
Acting Commissioner Col Blanch said the investigation into what happened to the four-year-old during the 18 days she was missing remained ongoing a week on from Cleo's dramatic rescue.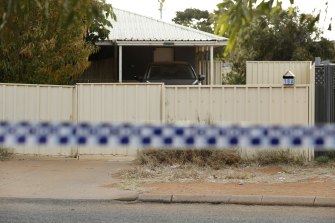 The house of alleged abductor Terence Darrell Kelly.Credit:Philip Gostelow
"There is a long way to go about piecing together what has happened," he told Radio 6PR.
"As far as what the story will be, that will be for the court and not for police to air in public about our theories at this point."
He did, however, rule out reports a woman was being investigated in relation to Cleo's abduction.
Forensic officers remained at accused man Terence Darrell Kelly's Tonkin Crescent home for an eighth day on Wednesday, with lead detective Cameron Blaine attending the property on Monday and Tuesday to inspect evidence being collected, including a mobile phone.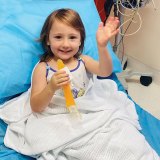 Four-year-old Cleo Smith in hospital after her rescue in Carnarvon.Credit:WA Police
The delicate process of interviewing Cleo about what happened during the 18 days she was missing continues, with the family attending Carnarvon Police Station on Tuesday.
Mr Blanch said the family were happy to be back together and were grateful for the outpouring of love from the community.
"I think they're just happy to be a family, they're happy to be back together, and they are relishing in that time," he said.
"They certainly have asked for their privacy, we can all understand why, Cleo is only four years old and it's important she gets back to normal life which is going to be very difficult, but certainly coming out of those 18 days of hell, the best thing is that they're together, and they're a family."
Detective Senior Sergeant Blaine on Monday returned to the Gascoyne coastal town where he rescued Cleo from her alleged abductor's home to continue the investigation.
"The focus this week is for us to ascertain whether there was anyone else involved, that's why we're still here," he said.
"We just ask that if there was anyone that had any contact with Mr Kelly, whether you saw him, whether you met with him, whether you spoke to him on the phone during the relevant period to please make yourself known to police."
Cleo was snatched from her family's tent on October 16 while camping at Quobba Blowholes campsite, a remote coastal area 45-minute drive north of Carnarvon.
Most Viewed in National
From our partners
Source: Read Full Article