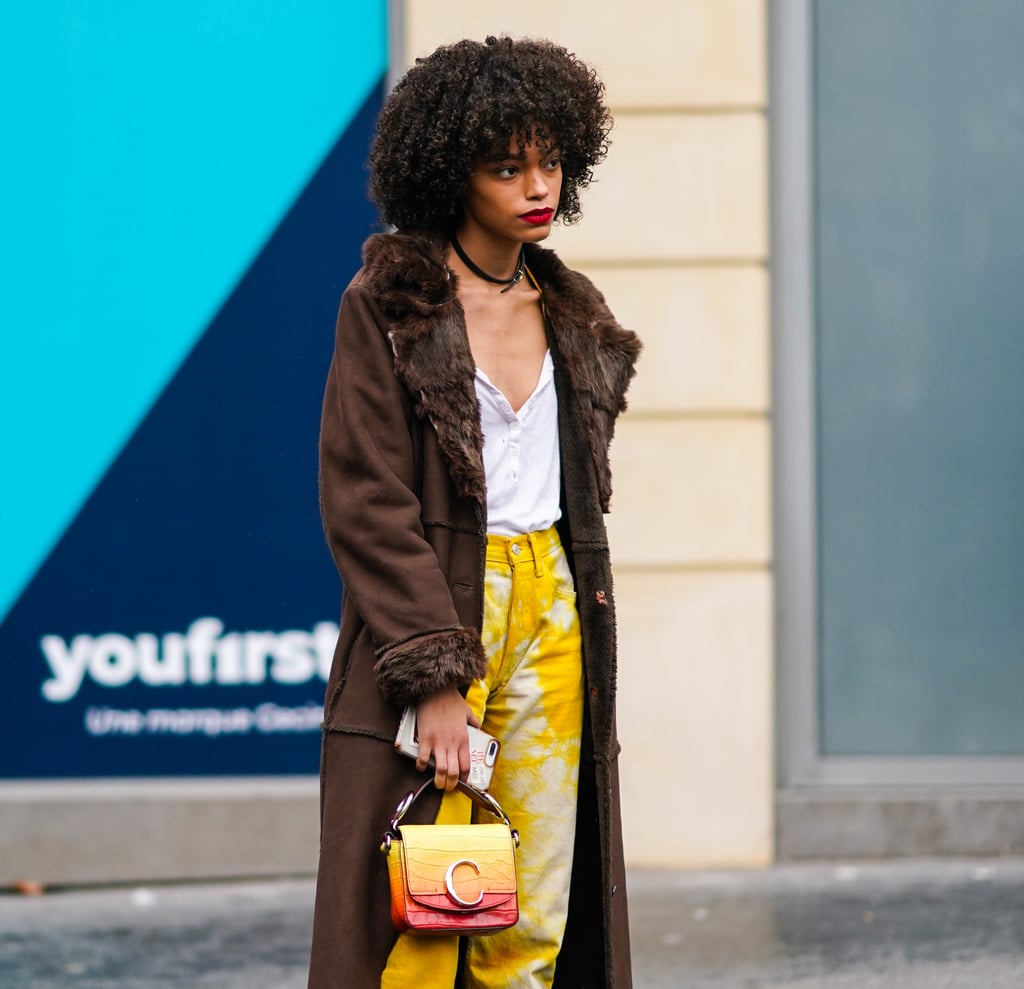 How to Style a Curly Bob

Curly bob haircuts are great for anyone looking to enhance their natural curl pattern.
The hairstyle adds volume to your look and is low-maintenance to style.
Learn styling tips for curly bobs and get salon inspiration here.
If there's one haircut that has proven to stand the tests of time, it's the bob haircut. The short hairstyle doesn't just work on straight hair, either; curly bob haircuts are a great, low-maintenance, statement-making look. Short hair has many perks: it requires less product for styling, it dries faster than long hair, and it just feels so weightless and free. And if you have curly hair, your curls can actually benefit from going shorter — without the extra weight at the ends, your curls have more spring, allowing them to really thrive.
"2022 will be the year of the chop," Joseph Maine, celebrity hairstylist and founder of Trademark Beauty, tells POPSUGAR. "There's not just one short cut that will rule over others, any length from chin to collar bone will be on point."
Bobs can be styled in a number of different ways but when worn curly, especially if you have 2A-4C hair, they can give you lots of volume and lift at the root of the hair. If flat hair is your enemy and you're looking for a way to enhance your natural texture, a curly bob may be the solution to your woes.
How to Style a Curly Bob Haircut
If you're wondering how to style your bob curly and make it look like the voluminous, bouncy styles you see on Instagram and some of your favorite celebrities, you've come to the right place. Two hairstylists are sharing their tips below.
Curly Bob Haircut Tip #1: Try to Plop Your Curls
People on TikTok can't get enough of "plopping" their curls, and there's a reason for it. The hair-drying technique is great for encouraging curls to form while eliminating frizz. Learn how to plop your hair with a T-shirt with this guide.
Curly Bob Haircut Tip #2: Define Curls With a "Curl Cocktail" of Products
Everyone's ideal cocktail of curly hair products is different and it takes some trial and error to find what works for you, but Devin Toth, a hairstylist at Salon SCK, suggests mixing DevaCurl Styling Cream Rich Moisturizing Definer ($28) and some Aussie Instant Freeze Gel ($4). "You can scrunch it or twist sections of hair into smoother and thicker coils," he says.
Curly Bob Haircut Tip #3: Try a Half-Up Half-Down Hairstyle
People often mistake bob haircuts for being boring because they think they're limited in terms of hairstyling options but that's not the case. Toth suggests the half-up top knot as a simple updo for short curly hair. "Just pull your hair up into a high ponytail on the top of your head and bring it through the elastic twice," he says. "On the second time through, bring your ponytail only halfway through, forming a knot. Then just pin the knot to your head."
Curly Bob Haircut Tip #4: Try a Slicked-Back Style
Another fun way to change up your curly bob haircut is by pulling one side back. "Slicking one side back with a styling gel and securing it with a fun hair accessory is a really cool way to change up your curly bob hairstyle," Toth says. "I recommend brushing the gel back from your hairline to behind your ear with a boar bristle brush." We recommend the Pattern Strong Hold Gel ($25), Bread Beauty Supply Hair Oil ($24), and the Crown Affair The Brush No. 001 ($62) for this look.
Curly Bob Haircut Tip #5: Create Updos With Hair Accessories
Some people are hesitant to get a bob haircut because they think they'll lose the ability to put their hair up, but that's not the case — you just have to be creative. "If your curly bob is too short to tie up, you can also incorporate silk scarves or bandanas," hairstylist Nicole Casamassima of Nexxus New York Salon tells POPSUGAR. "When all else fails, buy some cute accessories such as barrettes or headbands to tie back your hair."
Ahead, keep scrolling for curly bob haircut inspiration to bring with you to the hair salon.
Source: Read Full Article