Just when you thought that everything there was to say about the Trump White House had already been said, another insider releases a tell-all. But strangely, no matter how damaging the information these books would seem to contain, the Trump family always appears pretty unbothered by it all. It seems like every other day of the week that there's another new Trump exposé on the way, but some people believe that this is the one that will really rattle the family.
As The New York Times reported in August 2020, there were roughly 1200 books written about former President Donald Trump or his administration in the preceding four years — which doesn't include the plethora of biographies and tell-alls written about him and the family before he became president. Though not all of these books were unfavorable, some — like the ones written by his niece Mary Trump, journalist Bob Woodward, and former staffer Michael Wolff in particular — contained eye-popping details and allegations that dominated headlines for months.
So what makes this upcoming book so special? Read on to find out. 
Melania Trump's former chief of staff has tea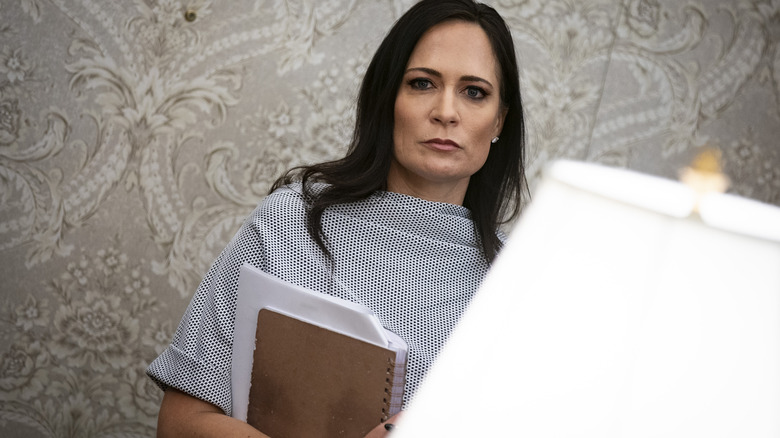 According to reporting in CNN, the next former Trump Administration official to drop an exposé will be Stephanie Grisham, who worked in several roles over the course of the Trump presidency — and was one of the few staffers who hung in from the start of the 2015 presidential campaign all the way through to the insurrection on January 6. But Grisham also offers another fresh angle. Rather than working directly for the former president, she worked most closely for former first lady Melania Trump, which may have given her some under-examined insights into how the White House operated. 
Melania hired Grisham in 2015 to work with the press on the campaign trail. Melania then brought her along to the White House, where she became the East Wing communications director, then a stint as White House press secretary, then back to the East Wing to work as Melania's chief of staff. Grisham, sources say, "knows things no one else has been told," and the book will include behind-the-scenes details on the Stormy Daniels scandal and other sexual harassment claims, as well as Melania's real feelings about her husband and the rest of the Trumps.
If the first Melania exposé, "Melania and Me", written by a former best friend, is true, then Grisham's book may give us a few more details on the rumored Melania/Ivanka feud, as well as how much influence Melania really had on Donald.
Source: Read Full Article