Isaac Ordonez will soon hit the screen as a very familiar character – Pugsley Addams!
The young actor takes on the Addams Family character in the upcoming Netflix series Wednesday.
The new series is a sleuthing, supernaturally infused mystery charting Wednesday Addams' (Jenna Ortega) years as a student at Nevermore Academy. Wednesday's attempts to master her emerging psychic ability, thwart a monstrous killing spree that has terrorized the local town, and solve the supernatural mystery that embroiled her parents 25 years ago — all while navigating her new and very tangled relationships at Nevermore.
VIDEO: Watch the trailer here!
Ahead of the premiere of the new show, we caught up with Isaac and learned 10 Fun Facts about him.
Find out what he revealed inside…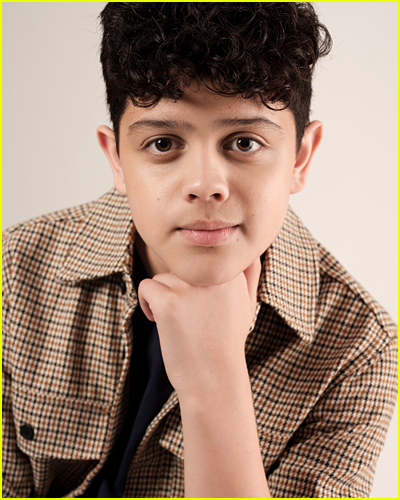 In case you missed them, see all the photos of Isaac and his co-stars at the premiere!
Check out Isaac's fun facts below…
Isaac Ordonez – 10 Fun Facts
1. I have traveled to multiple countries, although I have never traveled outside of California within the United States. I would love to visit New York, Florida, and Alaska someday.
2. I am homeschooled. I attended traditional school for kindergarten and fourth grade. I enjoy learning from the comfort of my couch.
3. I have one dog, Leia. She's a small mixed rescue. She is also old and mean to anyone outside of our family. Her teeth are tiny and have started to fall out. I really want a cat but I know Leia won't allow it.
4. Star Wars was the first movie I saw that blew my mind. At three years old I became obsessed. At one point, there was a phase where I had to wear at least one Star Wars article of clothing every day, even if it was just the character's underwear.
5. My favorite foods are strawberries, my dad's grilled chicken, my mom's Spanish rice, and Doritos Flamas.
6. Within the past year, I have become really into horror films. My favorite horror film right now is the original Scream.
7. Growing up, I was often told that I look like young Goob from Meet The Robinsons. Some people have mentioned lately that I look like Raul Julia.
8. The actors I dream of working with are Oscar Isaac, Chris Pratt, and Pedro Pascal.
9. One thing I am afraid of is big fat hairy spiders. The little ones don't phase me, but those hairs THOSE HAIRS!!!
10. Most people tend to spell my name wrong, which I understand it is not a name you hear every day. So FYI it is Isaac.
Be sure to tune in to catch Isaac Ordonez as Puglsey Addams on Wednesday, streaming on Netflix starting Wednesday, November 23rd!
Source: Read Full Article