Angelina Jolie has been making headlines for decades. Recently, the content behind those headlines has had to do with her fizzled marriage to Brad Pitt and the contentious nature of their split. Jolie has been making big claims as the divorce rolls on, so things are clearly difficult. Will Jolie move on and find love again? That all depends on the person, because she has a really long list of deal-breakers.
But before Pitt, Jolie was still a tabloid sensation. People have been obsessed with everything about her, from her most important tattoo to how she deals with personal pain. She also has an impressive net worth, so that's cool too.
While Jolie is solidified as a Hollywood A-lister now, she wasn't always at the top of the food chain. In fact, when she was a new actor, trying to land the role in "Tomb Raider," she had to agree to one very unusual rule. Here's what it was.
Angelina Jolie agreed to undergoing drug tests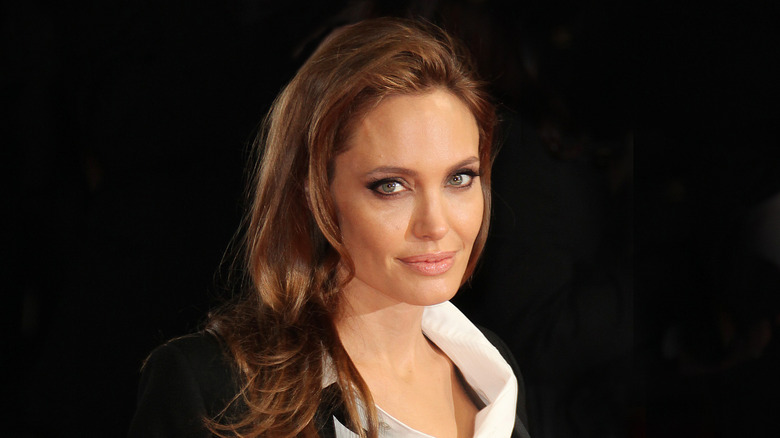 When Angelina Jolie was trying to land the role of Lara Croft in "Tomb Raider," she ended up having to agree to certain rules in order to secure her place. At the time, the actor was viewed by Hollywood as somewhat unpredictable; there were rumors of her drug use and a budding relationship with Billy Bob Thornton, according to E! News. Interestingly enough, this characterization as the wild card was actually appealing to Hollywood executives because it fed Croft's character.
However, Jolie still had to agree to administered drug tests. According to The Hollywood Reporter, Jolie said to Simon West, the director, "Look, I want to do it, but I know what my reputation is, and I'll do anything you want to prove that I'm worthy. I'll be reliable, and I'll turn up, and I'll work hard." Jolie added, "I don't care if the studio wants to drug test me every day."
True to form, Jolie underwent urine and blood tests, which she passed. The film execs also hired people to look after her physical and mental health too, and it was well worth it because "Tomb Raider" was a massive success and Jolie became a worldwide star.
Source: Read Full Article