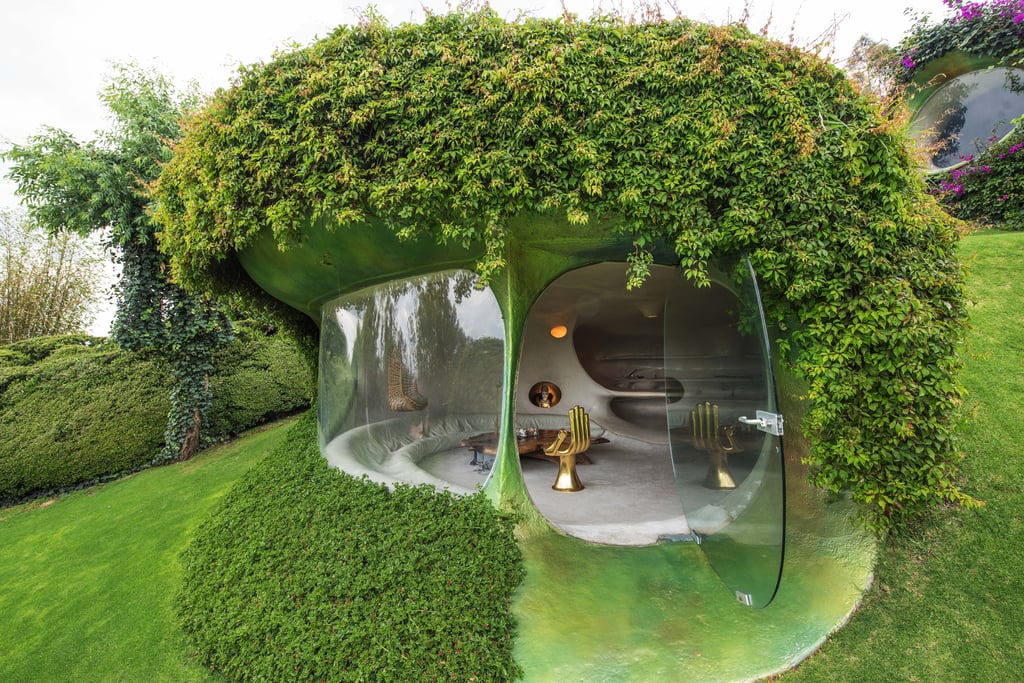 This Organic House in Mexico Puts Nature Top of Mind, and the Finished Product Is Interstellar

Hidden half beneath a hilly garden sits La Casa Orgánica in Juárez, Mexico. The house, which was designed by Mexican architect Javier Senosiain Aguilar in 1985, flows together as seamlessly as a pair of butterfly wings, and we're turning our heads in every direction as we take in all the gorgeous aspects of this home. Reminiscent of a spaceship from another dimension, the house was designed with a human's base needs in mind — including hunger, sleep, and socialization.
"La Casa Orgánica was born from the idea of creating a space adapted to humans, according to our environmental, physical and psychological needs; taking into account our origin in nature and our historical background," Casa Orgánica said in a press release. Modeled after shapes in nature, various rooms in the house resemble igloos, caves, a mother's womb, and even a mother's arms folded together to embrace a newborn baby.
Like walking into the center of the Earth, you have to move down a spiral entryway toward a tunnel that leads into the main living space. Inside, Casa Orgánica is intentionally simple in its decor and comes complete with integrated furniture and sand-colored carpets that mesh with the room to create the illusion of being one with the Earth. The house, which is half buried underneath the land it sits on, also has its own microclimate powered by the surrounding garden.
Originally, the Casa Orgánica was built with a single bedroom and was later expanded to accommodate the architect's growing family, who lived there for 25 years before the home opened up for tours. Tunnels were added to connect the existing house with a new addition that became known as El Tiburón, or The Shark, because of its shape, and a giant fin was later added on top to complete the look.
Due to COVID-19 restrictions, tour groups can consist of no more than six people and tours have been condensed to last one hour at a time. Mexican citizens can stop by for $350, but anyone visiting from outside the country will be charged $480 per prebooked visit. Senior citizens and children between ages five and 18 are also eligible to pay a reduced fee of $250. But it is worth noting that the design of the house does not accommodate for people in wheelchairs or on crutches, so plan accordingly if you're thinking of booking a trip.
Admire the mesmerizing architecture of this cavernous house ahead, and then see what other unique travel destinations you should add to your 2021 bucket list here.
Source: Read Full Article