In this column, we deliver hot (and cold) takes on pop culture, judging whether a subject is overrated or underrated.
There is only one reason to watch this season of The Bachelor(s), and it's not for the contestants.
The season opens as the Bachelor Titanic sinks. The ocean fills with countless women in their very, very early 20s. To save these hopeful beauties, Network Ten throws them three life preservers shaped like the different breeds of white man. But as the hot air escapes the three men, they deflate. All hope is lost. That is until the captain deploys the life raft. He rides in to save these women from a sexist and brutal public. He shields them from the raging waters and raging men. The women cheer and sing, "Thank God for Osher Gunsberg".
Osher, like Queen Elizabeth II before him, represents constancy. His decades-long career means he is woven into our cultural fabric, like a handsome brooch. As we journey into the uncharted waters of The Thrachelor, we feel safe under his steely gaze. And boy do we need that safety.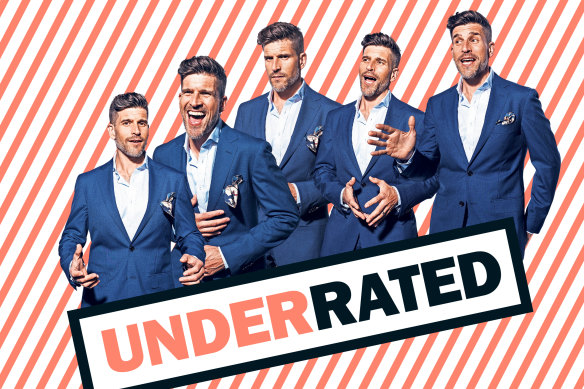 Osher Gunsberg: Is there anything he can't do?
Born Andrew Jonas Gunsberg, he changed his name to Osher, the Hebrew word for happiness, to signify his more joyous outlook on life. I could not think of a more fitting name for this man. For his perfectly aligned hair, kind smile and nice suit make every day feel like a rose ceremony.
It's no secret that Australia loves Osher. A quick Google search will reveal we've been asking questions such as "Is Osher vegan?" "Does Osher have kids?" and "Is OSHA from The Bachelor married?" And while the Occupational Safety and Health Administration is single and ready to mingle, I'm sorry to say that our Osher is married… To the art of The Bachelor! (And to his wife.)
Personally, I am a long-time supporter of Osher. He has been with me since his A****w G days on Australian Idol. His bouncy, blonde hair convinced me to spend too much money texting to save my favourite contestants. Osher was with me through the highs and the lows. Puberty was tough, mainly because Lee Harding was unfairly eliminated from season three of Australian Idol. I was a nervous wreck. But in that trying time, Osher offered a calm, ordered perspective in a world of disorder. How can one man soothe a volatile nation? Call it talent. Call it skill. Or call it, in the words Mr Wasabi Lee Harding himself, Osher being on 11, he can go-go-go.
Something that is not on 11 is this new season of The Bachelors. The ratings for Monday night's premiere were the lowest in the history of the franchise. Perhaps because in an attempt to make the show appeal to a broader audience, it now appeals to no one. The show has walked away from diverse representation more quickly than Pepsi walked away from Kendall Jenner.
There's no denying that the program has an ongoing problem with diversity across a myriad of spectrums. It's the kind of show where producers put a woman in her 40s on a stick and run around after men saying "Oooooh spooky! Don't let it touch you!" Not to say that they haven't given diversity a whack. But after an attempt last season at welcoming queer culture into the mansion's fold, the franchise bellowed "never again" and has gone for an aggressively straight format; offering us three men looking for "love". Oh, the diversity! There's a tall one, a yoga one and a drummer one, who can only be described as Potato Gun Kelly. All the shades of beige.
Luckily, Osher brings professionalism and showmanship to this new season of Trio de Bach. The showrunners weaponise that Osher magic to distract you from the structural issues at play, like crafty real estate agents, but the cracks still show.
"In a Bachelor world first," Osh proclaims. I'm delighted to hear him say it. Look at how happy he is, announcing a world first. Luckily, he gets to do this every season. But nonetheless, good on him. And what is this world first? The women have agency. This season, the women do not have to accept a rose from a man, lest they be locked in a high tower guarded by a dragon. But the foundations of the building still crumble. Chunks of concrete are falling from the sky. Get out of the way, Osher! Save Australia's son! The premiere left me asking, can this paragon of media integrity save The Bachelor(s)/The Thrachelor/Three's Company from itself? Or do we need to save Osher from this show?
For you see the problem with The Bachelor/ette/s is not Osher's star power. That is undeniable. Osher is incredibly good at his job. Watching him makes me believe that yes, this is a show about finding love. The trouble is that the hand of the producers is firmly in every frame of the show. Audiences can smell inauthenticity. The premise of the Multi-Bacherverse wears thin. The very fact that the cast is so massive they've had to rent out a holiday home on the Gold Coast, the home of good decision-making, really says it all. You can't tell the audience that this show is about true love while trying to recreate the raw, unbridled controversy of Big Brother After Dark.
So, I do think The Bachelors will go down with their ship. Hopefully, Osher is in a dingy way out in the distance, away from the wreck. For me, I look forward to the day when Osher is given the late-night talk show that he deserves. In the meantime, I hope they shell out for a theme park multi-pass so Osh can have a day of fun among the garbage of reality telly.
To read more from Spectrum, visit our page here.
The Booklist is a weekly newsletter for book lovers from books editor Jason Steger. Get it delivered every Friday.
Most Viewed in Culture
From our partners
Source: Read Full Article