The British royal family is never not doing the most when it comes to drama, but this week was even more intense than usual thanks to an incorrect report that Kate Middleton and Prince William were breaking up.
In case you missed this whole thing, MSN syndicated what turned out to be a completely false article claiming that Kate had moved out of the home she shares with William. The story was removed, and Newsweek did some digging and discovered it had originally been published by a French outlet, which said in a statement, "This story is indeed false and has been published by accident. We are taking it down momentarily."
Glad that all worked out, but Kate and William still had to deal with the internet thinking they'd split—and on top of that, they had to attend the premiere of Top Gun: Maverick together just days after the drama. Cosmo spoke to body language expert Blanca Cobb about the outing, who analyzed photos of the royal couple at the premiere and noted that things looked a bit…tense. Three photos in particular stood out, which we're taking a closer look at—starting with this photo of the Cambridges arriving at the premiere: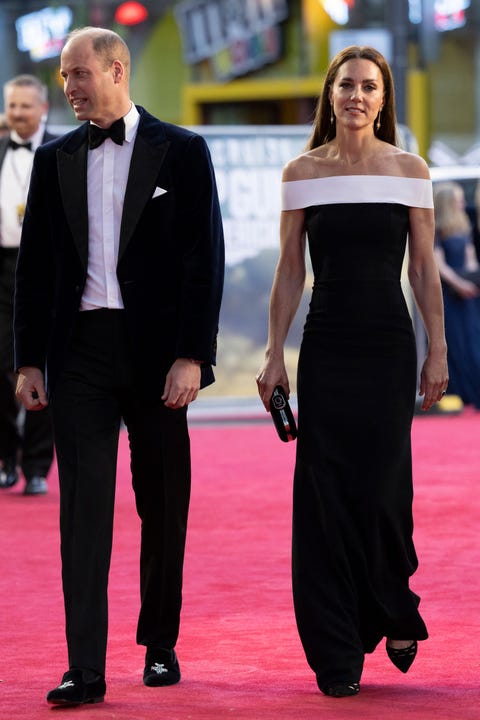 "Kate might be walking beside Prince William, but the look on her face says that she's a million miles away," Cobb says, noting that while the royal couple is leading with the same foot (which indicates they're in sync), their body language is "off."
"William's right hand is balled into a loose fist, which suggests that he's feeling a bit tense" Cobb explains. "A happy couple usually doesn't let anything in between them. And yet, Kate is holding her clutch in her right hand, which is a physical barrier to William. This doesn't allow him to hold her hand if he wanted to."
Of course, this is just one shot, so let's take a look at another: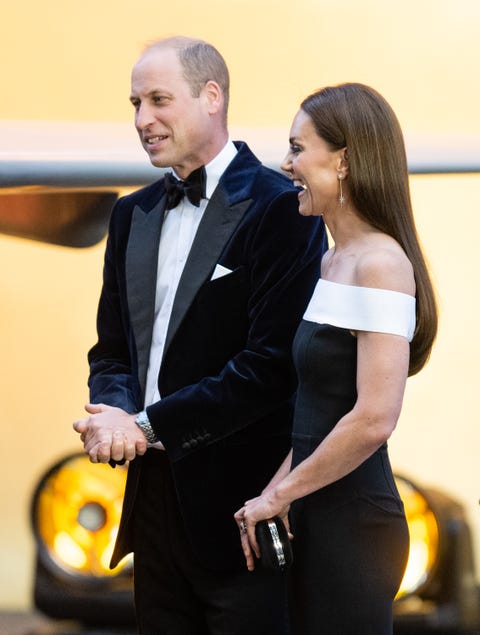 Kate and William look pretty happy, but the body language vibes here aren't quite as chill as they seem.
"Although Kate is laughing and gives the impression that she's enjoying herself, the placement of the clutch in front of her body serves as a psychological and physical barrier," Cobb says. "Notice that her arms aren't completely relaxed as she's holding her clutch right in front of her pelvis. If she were relaxed then her arms and clutch would hang lower. William's hands clasped in front of his lower abdomen also indicates that he's not feeling completely relaxed himself. When you feel vulnerable, you tend to pull her hands closer to your body to comfort yourself."
Cobb adds that it's interesting to see William and Kate "shielding their vulnerable feelings in a similar manner," and that this is actually a good sign "because no matter what's going on for the couple, they're maintaining an emotional connection." So at least there's that!
And speaking of connection, let's discuss this photo of William with his hand on Kate's back: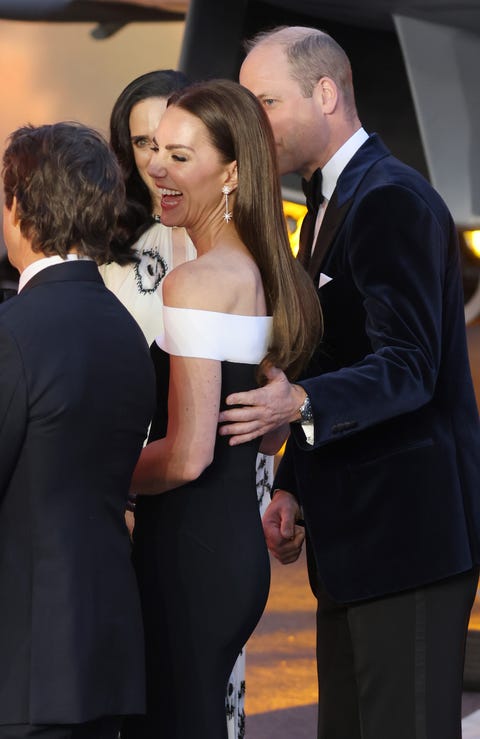 Cobb points out that "again, William's right hand is slightly balled into a loose fist" and that while he's "maintaining a connection to his wife," something is clearly on his mind. "Kate is enjoying the moment more than William as there's a mismatch of emotions on their faces," Cobb explains.
This isn't that surprising considering William and Kate were coming off a false report about the supposed end of their marriage, but it's fascinating to take a deeper look into their body language nonetheless. And there will be a lot of upcoming opportunities to do so thanks to the Queen's Platinum Jubilee being around the corner, so get ready.
Source: Read Full Article